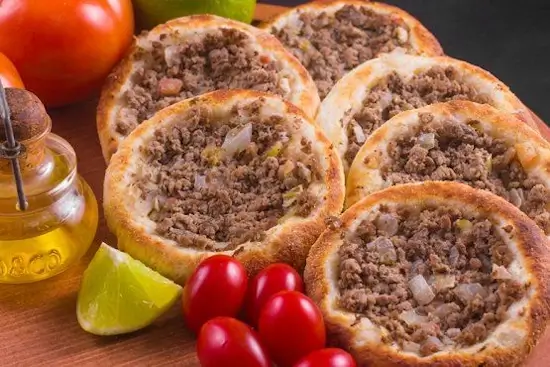 Photo from pinterest.com
Are you ready to embark on a culinary journey to the heart of Lebanon? Let's explore the delectable world of Sfiha, savory Lebanese meat pies that are adored for their unique blend of spices and rich, aromatic fillings. In this article, we'll guide you through crafting these mouthwatering delights in your own kitchen.
What Are Sfiha?
Sfiha (pronounced "sfee-ha") are small, open-faced meat pies that originate from Lebanon and are widely enjoyed across the Middle East. These delicious pastries are often served as appetizers or snacks and are known for their enticing combination of ground meat, fragrant spices, and a hint of citrus. Making Sfiha at home allows you to savor their authentic flavors and share them with family and friends.
Ingredients:
For the Dough:
2 1/2 cups all-purpose flour
1 tablespoon active dry yeast
1 teaspoon sugar
1/2 teaspoon salt
1 cup warm water
2 tablespoons olive oil
For the Meat Filling:
1 lb ground beef or lamb
1 onion, finely chopped
2 tomatoes, diced
2 cloves garlic, minced
1/4 cup fresh parsley, chopped
1/4 cup fresh mint leaves, chopped
2 tablespoons tahini (sesame paste)
2 tablespoons pomegranate molasses
1 teaspoon ground allspice
1/2 teaspoon ground cinnamon
1/2 teaspoon ground cumin
Salt and pepper to taste
Instructions:
1. Prepare the Dough:
In a small bowl, combine the warm water, sugar, and yeast. Let it sit for about 5-10 minutes until it becomes frothy. In a large mixing bowl, combine the flour and salt. Make a well in the center and pour in the yeast mixture and olive oil. Mix until the dough comes together, then knead it on a floured surface for about 5 minutes until it becomes smooth and elastic. Place the dough in a greased bowl, cover it with a clean kitchen towel, and let it rise in a warm place for about 1 hour or until it has doubled in size.
2. Prepare the Meat Filling:
In a skillet, heat a bit of olive oil over medium heat. Add the chopped onion and minced garlic, sautéing until they become translucent. Add the ground meat and cook until it's browned and crumbly, breaking it up with a spatula as it cooks. Stir in the diced tomatoes, fresh parsley, and fresh mint leaves. Add the tahini, pomegranate molasses, ground allspice, ground cinnamon, ground cumin, salt, and pepper. Cook for another 5-7 minutes, allowing the flavors to meld. Remove from heat and let it cool.
3. Assemble and Bake:
Preheat your oven to 375°F (190°C). Punch down the risen dough and divide it into small, golf ball-sized portions. Roll each portion into a thin circle, about 4-5 inches in diameter. Place a generous spoonful of the meat filling in the center of each dough circle, leaving a border around the edges. Fold the edges of the dough up and around the filling, creating an open-faced pie. Pinch the edges to seal the dough. Place the Sfiha on a baking sheet lined with parchment paper. Bake in the preheated oven for 15-20 minutes or until the dough turns golden brown and the filling is heated through.
4. Serve and Enjoy:
Sfiha are best served warm. You can enjoy them as appetizers, snacks, or as a delightful addition to a Mediterranean-inspired meal.
Discover the Flavors of Lebanon:
Sfiha are more than just meat pies; they are a culinary tradition passed down through generations. By crafting these delectable treats in your own kitchen, you're not only savoring a taste of Lebanon but also creating a memorable experience to share with loved ones. Enjoy the blend of aromatic spices and the rich, savory goodness of Sfiha.