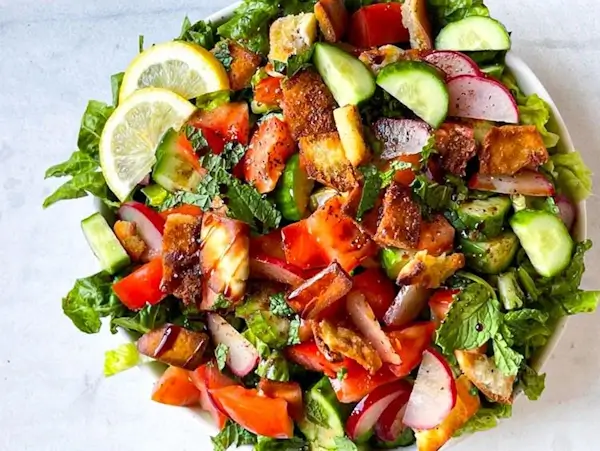 Photo from pinterest.com
If you're in search of a salad that's bursting with freshness and flavor, look no further than Fattoush. This Middle Eastern salad is a delightful combination of crisp vegetables, toasted pita bread, and a zesty dressing that will transport your taste buds straight to the heart of the Mediterranean. In this article, we'll show you how to create this delicious and healthy dish.
What is Fattoush?
Fattoush is a traditional Middle Eastern salad renowned for its use of fresh, seasonal ingredients. What sets it apart is the inclusion of toasted or fried pieces of pita bread, which add a delightful crunch to every bite. Fattoush is known for its vibrant colors, tangy flavors, and versatility, making it a beloved dish across the Middle East.
Ingredients:
For the Salad:
2 large cucumbers, diced
4 ripe tomatoes, diced
1 red onion, thinly sliced
1 green bell pepper, diced
1 red bell pepper, diced
1 cup fresh parsley, chopped
1/2 cup fresh mint leaves, chopped
2 cups romaine lettuce, torn into bite-sized pieces
2-3 radishes, thinly sliced
1 cup pomegranate seeds (optional, for added sweetness and color)
1 cup feta cheese, crumbled (optional)
For the Pita Chips:
2 large pita bread rounds, cut into bite-sized pieces
2 tablespoons olive oil
1 teaspoon sumac (optional, for extra flavor)
Salt and pepper to taste
For the Dressing:
1/4 cup extra-virgin olive oil
2 tablespoons fresh lemon juice
2 cloves garlic, minced
1 teaspoon ground sumac (for a tangy flavor)
Salt and pepper to taste
Instructions:
1. Prepare the Pita Chips:
Preheat your oven to 350°F (175°C). Cut the pita bread rounds into bite-sized pieces. In a bowl, toss the pita pieces with olive oil, sumac (if using), salt, and pepper. Spread the pita pieces on a baking sheet and bake for about 10-12 minutes, or until they are crispy and golden brown. Remove from the oven and let them cool.
2. Make the Dressing:
In a small bowl, whisk together the extra-virgin olive oil, fresh lemon juice, minced garlic, ground sumac (if using), salt, and pepper. Adjust the seasoning to your taste.
3. Assemble the Salad:
In a large salad bowl, combine the diced cucumbers, tomatoes, sliced red onion, diced green and red bell peppers, chopped fresh parsley, fresh mint leaves, torn romaine lettuce, and sliced radishes. If you're using pomegranate seeds and feta cheese, add them to the bowl as well.
4. Add the Pita Chips:
Just before serving, add the toasted pita chips to the salad. The pita chips should maintain their crunchiness, so add them right before you're ready to eat.
5. Drizzle with Dressing:
Drizzle the dressing over the salad. Start with a portion of the dressing and add more as needed. Toss the salad gently to ensure even coating.
6. Serve and Enjoy:
Fattoush is best served immediately to preserve the crunchiness of the pita chips. Enjoy this vibrant Middle Eastern salad as a refreshing appetizer or as a side dish to complement your main course. It's perfect for warm days or anytime you crave a burst of Mediterranean flavors.
Experience the Taste of the Mediterranean:
Fattoush is a celebration of freshness and simplicity. With its colorful array of vegetables, crispy pita chips, and tangy dressing, it's a salad that's both visually stunning and palate-pleasing. Whether you're a fan of Middle Eastern cuisine or simply seeking a healthy and delicious salad option, Fattoush is sure to become a favorite in your kitchen.