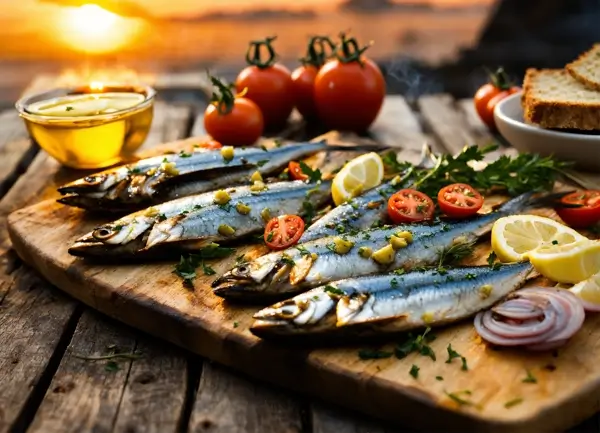 Photo from freepik.com
Indulge in the essence of Portugal with Sardinhas Assadas, a delightful recipe showcasing the simplicity and richness of grilled sardines. Elevate your culinary journey with this iconic Portuguese dish.
Ingredients:
Gather the essential ingredients for these flavorful grilled sardines:
2 lbs (900 g) fresh sardines, cleaned and gutted
1/4 cup (60 ml) olive oil
4 cloves of garlic, minced
1/4 cup (15 g) fresh parsley, chopped
Juice of 1 lemon
Salt and pepper to taste
Instructions:
Follow these simple steps to create Sardinhas Assadas that will tantalize your taste buds
Prepare Marinade:
In a bowl, mix olive oil, minced garlic, chopped parsley, lemon juice, salt, and pepper.
Marinate Sardines:
Coat the cleaned sardines with the prepared marinade, ensuring they are well-covered. Let them marinate for at least 30 minutes.
Grill to Perfection:
Preheat the grill to medium-high heat. Grill the sardines for 3-4 minutes per side or until they are cooked through and have a nice char.
Serve with Zest:
Plate the grilled sardines, drizzle with extra marinade, and garnish with additional parsley. Serve with a wedge of lemon.
Serving:
Enjoy Sardinhas Assadas as a main dish or a delightful appetizer. Pair it with a crisp Portuguese white wine for an authentic experience.
Sardinhas Assadas captures the essence of Portuguese seaside dining-simple, flavorful, and a celebration of fresh ingredients. Elevate your culinary adventure with this grilled sardine delight.