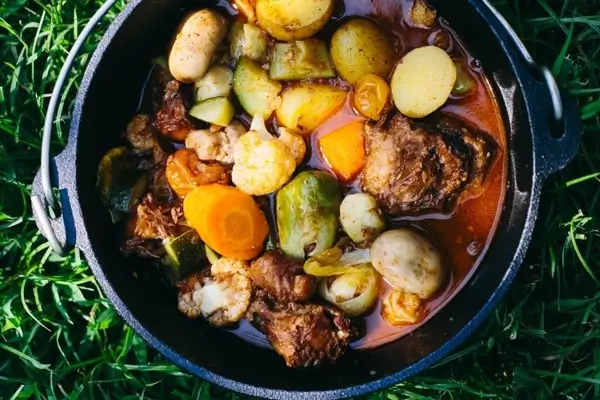 Photo from pinterest.com
Journey into the heart of South African cuisine with our Potjiekos recipe, a unique and savory stew that encapsulates the flavors and culture of South Africa. In this article, we'll guide you through preparing Potjiekos, a slow-cooked wonder, while delving into its cultural significance.
Exploring Potjiekos
Potjiekos is more than just a dish it's a testament to South Africa's rich culinary heritage. This slow-cooked stew combines:
1.5 pounds of meat (such as lamb, beef, or chicken)
Cooking oil
2 onions, finely chopped
3 cloves of garlic, minced
4 potatoes, diced
3 carrots, sliced
2 bell peppers, diced
2 tomatoes, diced
1 cup of green beans, chopped
Spices (such as 1 tablespoon of paprika and 1 teaspoon of cumin)
2 cups of beef or vegetable broth
Salt and pepper to taste
Fresh herbs (like parsley) for garnish
Optional toppings (e.g., grated cheese)
Instructions:
Preparing Potjiekos:
Begin by heating cooking oil in a large cast-iron pot or "potjie" over an open flame or stovetop.
Sear the 1.5 pounds of meat (lamb, beef, or chicken) until it's browned on all sides. Remove it from the pot and set it aside.
In the same pot, add the finely chopped onions and minced garlic. Sauté until they become soft and fragrant.
Layer the seared meat back into the pot.
Add 4 diced potatoes, 3 sliced carrots, 2 diced bell peppers, 2 diced tomatoes, and 1 cup of chopped green beans to the pot. Sprinkle with 1 tablespoon of paprika, 1 teaspoon of cumin, salt, and pepper.
Cooking Potjiekos:
Pour 2 cups of beef or vegetable broth into the pot until all the ingredients are partially submerged.
Cover the pot with a lid and simmer the stew over low heat for about 2-3 hours, or until the meat is tender and the flavors meld together. Stir occasionally.
Serving Potjiekos:
Garnish Potjiekos with fresh herbs like parsley and optional toppings such as grated cheese.
Serve this South African culinary treasure hot, accompanied by crusty bread or rice.
Enjoy the rich flavors of Potjiekos and experience the heartwarming tradition of South African cuisine.