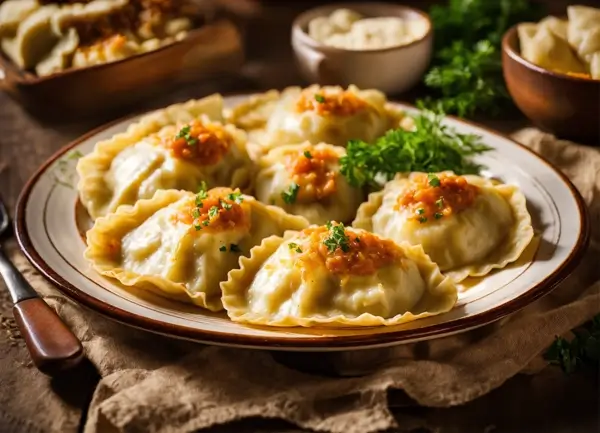 Photo from freepik.com
Embark on a culinary journey to Poland with our Pierogi recipe. These delightful dumplings, filled with various scrumptious fillings, are a testament to the rich flavors of Polish cuisine.
Ingredients:
Gather the essentials for Pierogi perfection:
All-purpose flour (2 lbs / 0.9 kg)
Eggs (4)
Sour cream (1 cup / 0.24 kg)
Salt (1 teaspoon / 5.69 g)
Potatoes (for filling, 1 lb / 0.45 kg)
Cheese (for filling, 0.5 lb / 0.23 kg)
Onions (for filling, 2 medium-sized)
Butter (for serving, 0.25 lb / 0.11 kg)
Instructions:
Follow these steps to create Pierogi magic in your kitchen
Creating the Dough:
Combine 2 lbs of all-purpose flour, 4 eggs, 1 cup of sour cream, and 1 teaspoon of salt to form a pliable dough.
Rolling and Cutting:
Roll out the dough and cut it into circles to create the Pierogi shells.
Preparing the Filling:
Mash 1 lb of potatoes, mix with 0.5 lb of cheese, and sautéed onions to create a flavorful filling.
Folding and Sealing:
Place a spoonful of filling on each dough circle, fold, and seal the edges.
Boiling Brilliance:
Boil the Pierogi until they float, indicating they are perfectly cooked.
Serving:
Serve the Pierogi hot, drizzled with 0.25 lb of melted butter, and enjoy the burst of flavors with each bite.
Pierogi is not just a dish it's a cultural experience. Transport yourself to Poland by savoring these dumplings, where tradition meets taste in a delightful union.