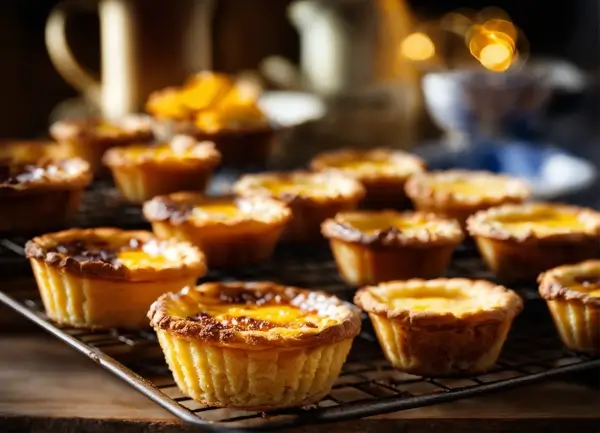 Photo from freepik.com
Embark on a culinary journey to Portugal with Pastéis de Nata, delightful custard tarts that encapsulate the rich flavors of Portuguese pastry. Uncover the secrets to creating these golden, flaky treats in your own kitchen.
Ingredients:
Savor the authenticity of Pastéis de Nata with precisely measured ingredients:
2 lbs (900 g) puff pastry
1 cup (200 g) granulated sugar
1/2 cup (120 ml) water
2 cups (475 ml) whole milk
1 cinnamon stick
1/2 cup (60 g) all-purpose flour
6 large egg yolks
1 teaspoon vanilla extract
Instructions:
Master the art of crafting Pastéis de Nata with these steps
Prepare Puff Pastry:
Roll out the puff pastry and cut it into squares, lining greased tart molds.
Make Syrup:
Boil sugar and water to create a syrup, adding a cinnamon stick for aromatic sweetness.
Create Custard Filling:
In a separate pan, combine flour, milk, egg yolks, and vanilla extract, stirring until smooth.
Combine Mixtures:
Gradually add the syrup to the custard mixture, creating a velvety consistency.
Fill Tart Molds:
Pour the custard into the prepared puff pastry molds, filling them to the brim.
Bake to Perfection:
Bake until the pastry is golden and the custard sets, achieving a perfect balance of textures.
Serving:
Serve Pastéis de Nata dusted with powdered sugar and cinnamon, capturing the essence of Portuguese pastry perfection.
Pastéis de Nata are more than a pastry; they're a cultural experience. Elevate your dessert game with these Portuguese custard tarts, and let every bite transport you to the charming streets of Lisbon.