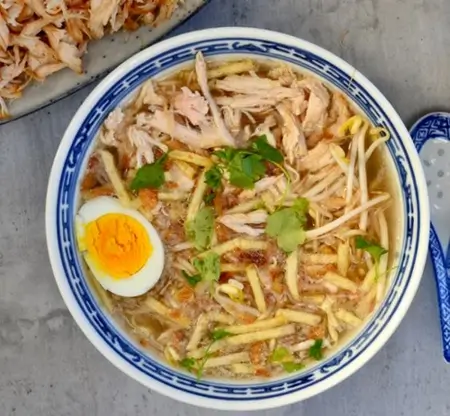 Photo from pinterest.com
If you're a food enthusiast on the lookout for exotic and flavorful dishes, then Saoto Soup is a must-try. Originating from the culturally diverse country of Suriname, this soup is a harmonious blend of flavors and textures that will tantalize your taste buds. In this article, we'll not only share a delicious Saoto Soup recipe but also provide you with a unique insight into its history and cultural significance.
A Journey to Surinamese Cuisine
Suriname, nestled on the northeastern coast of South America, is a melting pot of cultures, including Javanese, Creole, Chinese, and Indian, thanks to its rich history of immigration. Saoto Soup, also known as Soto Ayam in Indonesian, is a perfect example of this cultural fusion.
Ingredients You'll Need:
For the Chicken Broth:
1 whole chicken, cut into pieces
2 stalks of lemongrass, smashed
3 kaffir lime leaves
2 inches of fresh ginger, sliced
2 cloves of garlic, minced
1 onion, chopped
1 cinnamon stick
Salt and pepper to taste
For the Toppings:
1 package of bean sprouts
4 boiled eggs, halved
Fried shallots
Chopped green onions
Sambal (chili paste)
Fried crispy prawn crackers
Instructions:
In a large pot, add the chicken pieces, lemongrass, kaffir lime leaves, ginger, garlic, onion, and cinnamon stick.
Pour enough water into the pot to cover the chicken and bring it to a boil. Skim off any impurities that rise to the surface.
Reduce the heat, cover, and let it simmer for about 30-45 minutes, or until the chicken is tender and fully cooked.
Remove the chicken from the pot and shred the meat into bite-sized pieces. Discard the bones.
Strain the chicken broth to remove any solids, then return it to the pot.
Season the broth with salt and pepper to taste.
Prepare the toppings: blanch the bean sprouts in boiling water for a few seconds, then drain.
To serve, place a handful of bean sprouts in a bowl, add some shredded chicken, a boiled egg half, and a sprinkle of chopped green onions.
Ladle the hot chicken broth over the ingredients in the bowl.
Top with fried shallots and serve with sambal and crispy prawn crackers on the side.
Saoto Soup: A Culinary Fusion
Saoto Soup is more than just a dish; it's a reflection of Suriname's diverse culture and history. Each bite tells a story of immigration, adaptation, and the joy of sharing delicious food with loved ones. Whether you're savoring it for the first time or as a cherished family recipe, Saoto Soup is a delightful journey into Surinamese cuisine that you won't soon forget.
Incorporate this unique recipe into your culinary repertoire and savor the flavors of Suriname from the comfort of your home. It's a taste of something truly special.