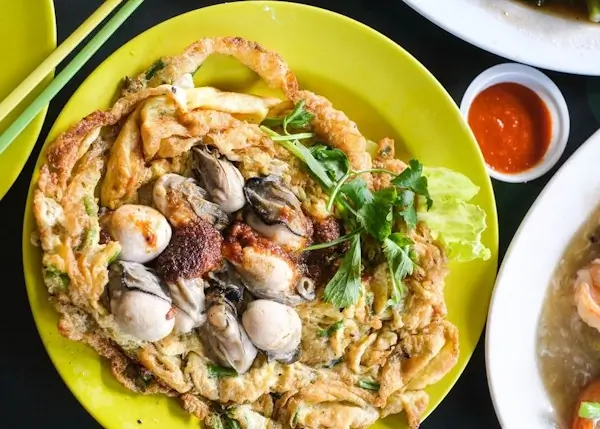 Photo from pinterest.com
Discover the taste of Taiwan with this delicious Oyster Omelette recipe. A beloved street food and a classic Taiwanese delicacy, this dish combines the briny goodness of fresh oysters with the savory satisfaction of an omelette. Follow our step-by-step guide to recreate the authentic flavors of Taiwan in your own kitchen.
Ingredients:
Fresh Oysters - 12-15 pieces
Eggs - 3 large eggs
Sweet Potato Starch - 2 tablespoons
Tapioca Starch - 1 tablespoon
Water - 3 tablespoons
Garlic - 2 cloves, minced
Chives - 1/2 cup, chopped
Vegetable Oil - for frying
Salt - to taste
White Pepper - to taste
Instructions:
Prepare the Oysters:
Clean the fresh oysters thoroughly, removing any sand or debris. Drain and set them aside.
Create the Batter:
In a mixing bowl, combine the sweet potato starch, tapioca starch, and water. Stir until you achieve a smooth and consistent batter.
Whisk the Eggs:
In a separate bowl, whisk the eggs until they're well beaten. Season with a pinch of salt and white pepper to taste.
Combine the Batter and Eggs:
Gently fold the batter into the beaten eggs until fully incorporated.
Heat the Pan:
Place a non-stick pan or skillet over medium-high heat. Add a generous amount of vegetable oil and let it get hot.
Cook the Omelette:
Pour the egg and batter mixture into the hot pan. Allow it to cook for a few minutes until the edges start to set.
Add the Oysters and Chives:
Place the cleaned oysters evenly across the omelette. Sprinkle the minced garlic and chopped chives over the top.
Fry Until Golden:
Continue cooking until the bottom of the omelette is golden brown, and the edges are crispy.
Flip and Finish:
Carefully flip the omelette to cook the other side until it's crispy and golden as well.
Serve Hot:
Slide the oyster omelette onto a serving plate. Serve hot with your choice of dipping sauce, such as a mixture of soy sauce, vinegar, and chili. Enjoy your homemade Taiwanese Oyster Omelette, capturing the essence of Taiwan's vibrant street food scene right in your own kitchen.
---
With this authentic Oyster Omelette recipe, you can savor the taste of Taiwan's bustling night markets from the comfort of your home. The combination of fresh oysters, a flavorful omelette, and the crunch of chives makes this dish a true Taiwanese delight. Try it for yourself and experience the unique flavors of Taiwanese street food.