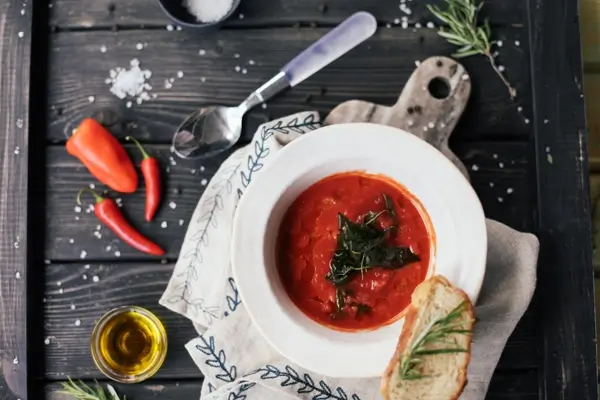 Photo from unsplash.com
Embark on a culinary journey to Spain with our Gazpacho recipe, a delightful cold soup that captures the essence of Spanish flavors. In this article, we'll guide you through creating an authentic Gazpacho while sharing insights into its cultural significance.
Discovering Gazpacho
Gazpacho is more than just a soup; it's a quintessential Spanish dish that offers a refreshing escape from the heat of the Iberian summer. This chilled concoction is a blend of ripe tomatoes, cucumbers, bell peppers, onions, and a touch of garlic, all pureed to perfection and seasoned with olive oil, vinegar, and spices. Gazpacho embodies the vibrant and sunny spirit of Spain.
Ingredients You'll Need:
6 ripe tomatoes, cored and chopped
1 cucumber, peeled and chopped
1 red bell pepper, chopped
1 green bell pepper, chopped
1 small red onion, chopped
2 cloves of garlic, minced
3 cups of tomato juice
1/4 cup of red wine vinegar
1/4 cup of extra-virgin olive oil
1 teaspoon of salt
1/2 teaspoon of black pepper
1 teaspoon of ground cumin
1/2 teaspoon of paprika
Fresh basil leaves for garnish (optional)
Croutons for garnish (optional)
Instructions:
In a blender or food processor, combine the chopped tomatoes, cucumber, red and green bell peppers, red onion, and minced garlic.
Pulse the mixture until it's roughly blended but still has some texture.
Transfer the blended vegetables to a large bowl.
Stir in the tomato juice, red wine vinegar, extra-virgin olive oil, salt, black pepper, ground cumin, and paprika. Mix well to combine.
Cover the bowl and refrigerate the Gazpacho for at least 2 hours to allow the flavors to meld and the soup to chill thoroughly.
Before serving, taste and adjust the seasoning if needed, adding more salt, pepper, or vinegar to suit your preferences.
Ladle the chilled Gazpacho into bowls or glasses.
Garnish with fresh basil leaves and croutons if desired.
Gazpacho: A Taste of Spanish Summer
Gazpacho embodies the spirit of Spanish cuisine, offering a burst of fresh and tangy flavors in every spoonful. Whether enjoyed as a cool appetizer or a light summer meal, Gazpacho invites you to savor the vibrant culture and culinary tradition of Spain.
Experience the refreshing taste of Spain by preparing this Gazpacho recipe and discovering the cultural significance it holds.