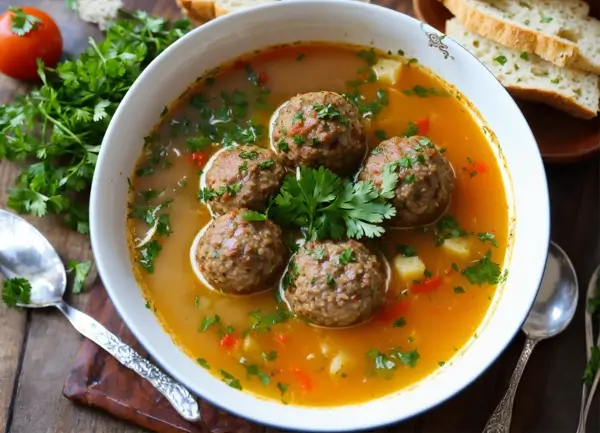 Photo from pinterest.com
Ciorbă de Perișoare, a beloved Romanian classic, is a flavorful meatball soup that warms the soul. This delicious soup combines a hearty meatball mixture with a tangy and sour broth, creating a harmonious and satisfying dish.
Ingredients:
For this hearty Romanian soup, gather these ingredients:
0.88 lbs (400g) ground pork
0.44 lbs (200g) rice
1 large onion, finely chopped
1 carrot, grated
1 red bell pepper, finely chopped
2 tablespoons (30g) vegetable oil
1.76 oz (50g) tomato paste
2.11 quarts (2 liters) water
2-3 bay leaves
4-5 black peppercorns
2 large eggs
2 tablespoons (30g) fresh parsley, chopped
Salt and pepper, to taste
Instructions:
Follow these steps to prepare a delightful Ciorbă de Perișoare
Prepare the Meatballs:
In a bowl, combine the ground pork, rice, half of the finely chopped onion, grated carrot, and finely chopped red bell pepper. Add salt, pepper, and one egg. Mix until well combined.
Form the Meatballs:
Shape the mixture into small meatballs, about the size of a walnut.
Sauté the Vegetables:
In a large pot, heat the vegetable oil over medium heat. Add the remaining chopped onion and sauté until translucent. Stir in the tomato paste and continue cooking for a few minutes.
Add Water and Season:
Pour in the water and add the bay leaves, black peppercorns, salt, and pepper. Bring the broth to a simmer.
Simmer and Add Meatballs:
Carefully place the meatballs into the simmering broth. Allow them to cook until the rice inside the meatballs is tender and the meatballs are cooked through.
Prepare the Egg-Lemon Mixture:
In a separate bowl, beat one egg and mix it with lemon juice. Slowly add a few spoonfuls of hot soup to this mixture to temper it.
Thicken the Soup:
Gradually add the egg-lemon mixture back into the soup while stirring continuously. Be careful not to curdle the eggs.
Serving:
Ciorbă de Perișoare is typically served hot, garnished with fresh parsley. Enjoy it with a dollop of sour cream or a slice of traditional Romanian bread.
Ciorbă de Perișoare is a heartwarming Romanian tradition that combines the flavors of pork meatballs and a zesty broth. This soup is a testament to the rich culinary heritage of Romania.