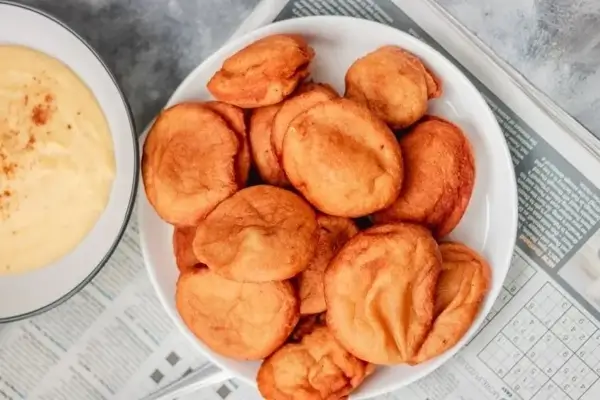 Photo from pinterest.com
Explore the authentic flavors of Nigeria with our Akara recipe. This traditional West African dish is a delightful and savory fritter made from black-eyed peas. Join us on a culinary journey to learn how to prepare these crispy and flavorful fritters that are perfect for breakfast or as a snack.
Exploring Akara
Akara is a beloved Nigerian street food known for its irresistible taste and versatility. These fritters are crispy on the outside, with a soft and flavorful interior. Made primarily from black-eyed peas, Akara is seasoned with spices, onions, and peppers, making it a satisfying and popular choice for breakfast or as a snack throughout the day.
Ingredients You'll Need:
2 cups of black-eyed peas, soaked and peeled
1 small onion, finely chopped
1-2 scotch bonnet peppers or chili peppers, finely chopped (adjust to your spice preference)
1 teaspoon of ground crayfish (optional)
Salt to taste
Vegetable oil for deep frying
Instructions:
Preparing Akara:
Begin by placing the soaked and peeled black-eyed peas into a blender. Add a little water and blend to create a smooth, thick paste.
Transfer the paste into a bowl and add the finely chopped onions, scotch bonnet peppers, and ground crayfish (if using). Season with salt to taste.
Heat the vegetable oil in a deep frying pan or pot. The oil should be hot but not smoking.
Using a spoon, carefully drop spoonfuls of the Akara mixture into the hot oil. Fry until they turn golden brown and crispy, usually for 3-4 minutes per side.
Remove the Akara fritters from the oil and place them on a plate lined with paper towels to remove excess oil.
Serving Akara:
Akara is best enjoyed hot and crispy. It's commonly served with spicy pepper sauce, pap (a porridge made from maize), or bread.
These delicious fritters are a popular street food in Nigeria and are perfect for breakfast or as a snack at any time of the day.