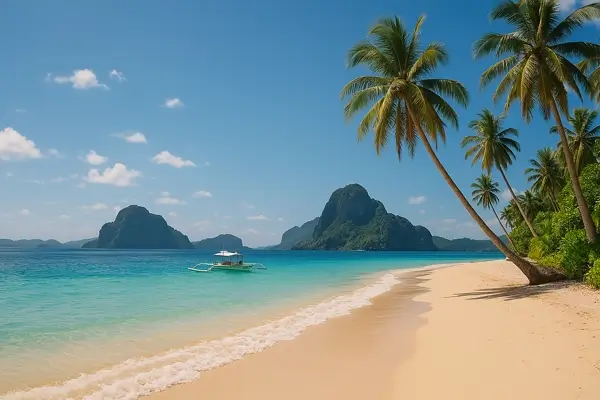 Photo from unsplash.com
Explore the Pearl of the Orient: Your Ultimate Guide to Traveling in the Philippines
Embark on an enchanting journey to the Philippines, where tropical paradise meets rich cultural heritage. This guide unveils the wonders of the archipelago, from pristine beaches to historic landmarks.
Main Tourist Places and Attractions:
Discover the world-renowned beauty of Boracay's White Beach, explore the enchanting Chocolate Hills in Bohol, and experience the vibrant energy of Manila, the capital city.
Natural Parks and Reserves:
Immerse yourself in the biodiversity of Palawan's Underground River, marvel at the unique landscapes of Banaue Rice Terraces, and explore the lush greenery of Taal Volcano.
Cultural and Historical Sites:
Step back in time at Fort Santiago in Manila, explore the historic town of Vigan, and witness the colonial charm of the UNESCO-listed Baroque Churches of the Philippines.
Seasonality and Best Months to Visit:
Plan your visit during the dry season from November to April for optimal beach weather, while the cooler months from December to February are perfect for exploring cultural sites.
Preparing for Various Weather Conditions:
Pack light, breathable clothing for the tropical climate, include a waterproof layer for occasional rain, and be prepared for occasional typhoons during the rainy season.
Traditions and Customs:
Participate in lively festivals like Sinulog, savor the tradition of "bayanihan" or communal unity, and witness the colorful Ati-Atihan Festival in Kalibo.
Local Cuisine and Restaurants:
Indulge in Filipino delicacies like adobo and sinigang, experience boodle fights for a communal dining experience, and explore street food markets for a taste of local flavors.
Festivals and Events:
Celebrate the lively MassKara Festival in Bacolod, join the grandeur of the Panagbenga Festival in Baguio, and immerse yourself in the unique Pahiyas Festival in Lucban.
Adventure Opportunities:
Embark on island-hopping adventures in Palawan, trek to the summit of Mount Pulag for a sea of clouds experience, and dive into the vibrant underwater world of Tubbataha Reefs Natural Park.
Excursions and Tours:
Explore the stunning landscapes of Batanes, cruise along the Loboc River in Bohol, and embark on a journey to the heritage site of Paoay Church in Ilocos Norte.
Visa Requirements and Documents:
Check visa requirements based on your nationality, ensure your passport has at least six months' validity, and prepare necessary documents for a hassle-free entry.
Safety and Traveler's Health:
Take precautions against mosquito-borne diseases, stay hydrated, and be cautious when swimming in unfamiliar waters. Consult your doctor for recommended vaccinations.
Travel Planning Tips:
Learn a few basic Filipino phrases, use local transportation like jeepneys, and be open to the warm hospitality of the Filipino people.
Hotels and Accommodations:
Choose from beachfront resorts in Palawan, boutique hotels in Makati, and cozy guesthouses in Baguio, ensuring a comfortable stay throughout your adventure.
Transportation and Getting Around:
Utilize domestic flights for island-hopping, ride tricycles for short distances, and use buses for intercity travel. Embrace the vibrant chaos of local transportation.
Best Areas for Accommodation:
Opt for beach resorts in El Nido, stay in the bustling district of Makati in Manila, and explore the cultural hub of Intramuros for a historical experience.
Local Residents and Their Customs:
Filipinos are known for their warm smiles and hospitality. Embrace the "Mano Po" gesture of respect and participate in local traditions with an open heart.
The Philippines welcomes you to a tapestry of islands and cultures, offering a travel experience that blends natural beauty with rich history.