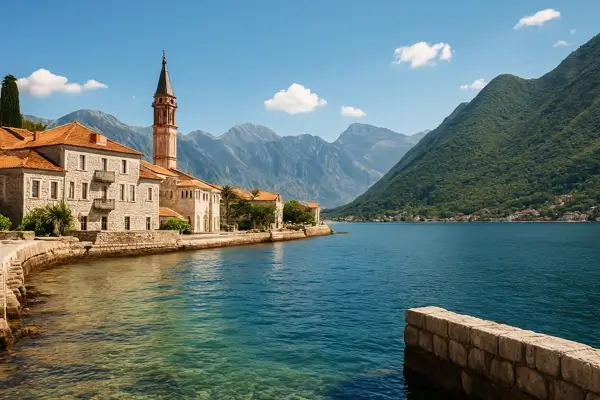 Photo from unsplash.com
Explore Montenegro: A Comprehensive Guide to Adriatic Bliss
Embark on an unforgettable journey to Montenegro, where the azure Adriatic Sea meets rugged mountains, and ancient traditions dance with modern allure. This guide unveils the essence of Montenegro, ensuring your adventure is a seamless blend of discovery and relaxation.
Main Tourist Attractions:
Discover the medieval charm of Kotor's Old Town, bask in the beauty of Sveti Stefan's islet, and be captivated by the serene landscapes of Durmitor National Park.
Natural Parks and Reserves:
Immerse yourself in the pristine beauty of Biogradska Gora National Park, hike the Tara River Canyon, and witness the dazzling beauty of the Blue Cave on Lustica Peninsula.
Cultural and Historical Sites:
Wander through the stone-paved streets of Budva's Old Town, explore the ancient Ostrog Monastery, and delve into Montenegro's rich history at the Maritime Museum in Kotor.
Seasonality and Best Months to Visit:
Optimal months for exploration are late spring (May to June) and early fall (September to October), avoiding the summer crowds while enjoying pleasant weather.
Preparing for Various Weather Conditions:
Pack light layers for coastal regions and warmer clothing for mountainous areas. Don't forget sunscreen for the sunny Adriatic climate.
Traditions and Customs:
Engage in the lively celebration of Njegos's Days, savor local delicacies during the Mimosa Festival, and witness the traditional art of olive picking.
Local Cuisine and Restaurants:
Indulge in Montenegro's gastronomic delights, from seafood feasts in Kotor to hearty mountain cuisine in Zabljak. Explore local markets for a taste of authenticity.
Festivals and Events:
Join the vibrant celebration of Podgorica City Day, experience the unique atmosphere of the Sea Dance Festival, and witness the artistry at the Montenegro Film Festival.
Adventure Opportunities:
Embark on a thrilling hike along the Vrmac Ridge, cycle the picturesque Bay of Kotor, and engage in water sports on the crystal-clear waters of Lake Skadar.
Excursions and Tours:
Take a boat tour to the Bay of Kotor's hidden gems, explore the vineyards of Crmnica on a wine tour, and venture into the wild beauty of Biogradska Gora on a guided hike.
Visa Requirements and Documents:
Check Montenegro's visa requirements based on your nationality. Ensure your passport has at least six months of validity.
Safety and Traveler's Health:
Montenegro is generally safe for travelers. Drink bottled water, be cautious on mountain roads, and have adequate travel insurance.
Travel Planning Tips:
Learn basic Montenegrin phrases, respect local customs, and use local currency for a smoother experience. Plan your itinerary considering travel times between destinations.
Hotels and Accommodations:
Choose a seaside resort in Budva, a boutique hotel in Kotor's Old Town, or a mountain retreat in Zabljak for a diverse stay.
Transportation and Getting Around:
Rent a car for flexibility, use buses for cost-effective travel, and enjoy scenic drives along the coastal roads. Ferries are available for Bay of Kotor exploration.
Best Areas for Accommodation:
Opt for Old Town accommodations for historical charm, coastal towns for beachside relaxation, or mountain retreats for a tranquil escape.
Local Residents and Their Customs:
Interact with locals, greet them with a friendly "Zdravo," and embrace the warm hospitality that Montenegro is renowned for.
Montenegro awaits, promising an odyssey of cultural richness, natural wonders, and Adriatic allure. Let this guide be your compass as you uncover the hidden gems of this Adriatic jewel.