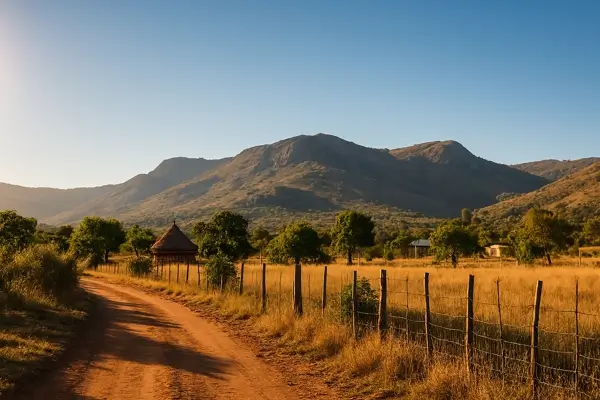 Photo from unsplash.com
Explore Eswatini: A Tapestry of Culture, Nature, and Adventure in Southern Africa
Embark on a captivating journey to Eswatini, a landlocked kingdom nestled in the heart of Southern Africa. This comprehensive travel guide unveils the rich tapestry of experiences awaiting you, from cultural wonders to the breathtaking landscapes that define this unique destination.
Main Tourist Attractions:
Discover the cultural pulse of Eswatini at the vibrant Ezulwini Valley and explore the royal history at the iconic Mantenga Cultural Village. Marvel at the wildlife in Hlane Royal National Park and be captivated by the traditional ceremonies at Ludzidzini Royal Residence.
Natural Parks and Reserves:
Immerse yourself in Eswatini's natural wonders at Malolotja Nature Reserve, where lush mountains and cascading waterfalls await. Explore Mlilwane Wildlife Sanctuary for close encounters with indigenous species and venture into the mysterious Nsangwini Rock Art.
Cultural and Historical Sites:
Uncover the history of Eswatini at the Swaziland National Museum and admire the artistry at the Ngwenya Glass Village. Visit the Swazi Candle Factory for handmade creations and witness the spirituality of the Ndzundza Nodada Church.
Seasonality and Best Months to Visit:
Plan your visit during the dry winter months (May to September) for optimal wildlife viewing and comfortable temperatures. Experience the vibrant cultural festivals in August and September, showcasing the kingdom's traditions.
Preparing for Various Weather Conditions:
Pack lightweight, breathable clothing for the warm days and layer up for cooler evenings. Include sunscreen and a hat for sun protection, especially during outdoor activities. Be prepared for occasional rain during the wet summer season.
Traditions and Customs:
Engage with locals through traditional Swazi dance and music. Greet elders with a respectful "Sawubona" and embrace the warmth of the Swazi people. Participate in the Reed Dance ceremony to witness a celebration of purity and unity.
Local Cuisine and Restaurants:
Savor Swazi cuisine, including "sishwala" (maize porridge) and "bobotie" (spiced minced meat). Indulge in a culinary journey at Malandela's Farmhouse or relish local flavors at The Foresters Arms.
Festivals and Events:
Attend the Umhlanga Reed Dance in August, a vibrant celebration of Swazi womanhood. Experience the Incwala Ceremony, a sacred event that marks the beginning of the agricultural season. Join the Marula Festival in February for cultural displays and traditional dances.
Adventure Opportunities:
Embark on hiking trails in Malolotja Nature Reserve or traverse the scenic Mahamba Gorge. Explore Sibebe Rock, one of the world's largest granite rocks, or venture into the adventurous activities offered at Mantenga Nature Reserve.
Excursions and Tours:
Discover the craftsmanship of Eswatini on a guided tour of the Ngwenya Glass Village and the Swazi Candle Factory. Take a cultural tour to witness traditional homesteads and engage in Swazi rituals. Explore the Lowveld on a guided safari for a close encounter with Eswatini's wildlife.
Visa Requirements and Documents:
Check Eswatini's visa requirements based on your nationality and ensure your passport has at least six months of validity. Familiarize yourself with border-crossing regulations and have necessary documents for smooth travel.
Safety and Traveler's Health:
Eswatini is generally safe, but exercise caution in urban areas. Ensure you have travel insurance and take necessary health precautions, including malaria prophylaxis if visiting certain regions. Stay hydrated, especially during outdoor adventures.
Travel Planning Tips:
Plan your itinerary to include a balance of cultural immersions, wildlife experiences, and scenic landscapes. Learn a few basic siSwati phrases to connect with locals. Respect photography restrictions in cultural and sacred sites.
Hotels and Accommodations:
Choose accommodations ranging from luxury lodges in Ezulwini to charming guesthouses in Malkerns. Book in advance during peak seasons, and consider staying in traditional beehive huts for a unique Swazi experience.
Transportation and Getting Around:
Opt for guided tours for seamless travel between attractions. Rent a car for flexibility, especially when exploring rural areas. Utilize minibus taxis for short distances and enjoy scenic drives through the kingdom's picturesque landscapes.
Best Residential Areas:
Stay in the Ezulwini Valley for a central location with access to cultural sites and wildlife reserves. Explore Mbabane for a taste of urban life or unwind in Malkerns, known for its arts and crafts scene.
Local Residents and Customs:
Respect the Swazi people's traditional customs and seek permission before taking photographs. Engage with locals in a friendly manner and express interest in their cultural practices. Purchase crafts directly from artisans to support local communities.
Eswatini invites you to unravel its captivating stories, from the beating heart of its cultural traditions to the untouched beauty of its natural wonders. Let this guide be your companion in creating memories that resonate with the spirit of this enchanting kingdom.