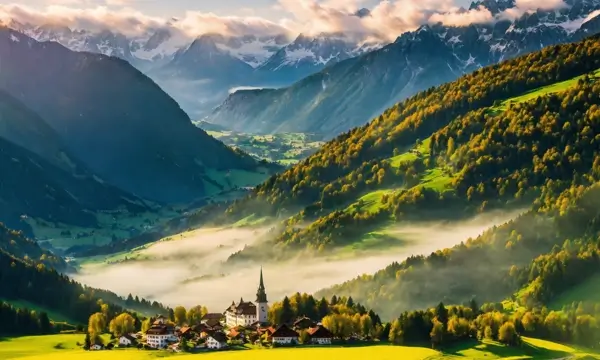 Photo from unsplash.com
The Austrian Alps, with their breathtaking landscapes, picturesque villages, and majestic peaks, offer an unparalleled destination for outdoor enthusiasts and nature lovers. From thrilling hiking trails to scenic road trips, the Austrian Alps boast a wide range of tourist routes that showcase the region's natural beauty. In this article, we will take you on a virtual journey through some of the most captivating tourist routes in the Austrian Alps. Get ready to immerse yourself in alpine adventures, discover hidden gems, and create unforgettable memories in this stunning mountainous wonderland.
Grossglockner High Alpine Road:
The Grossglockner High Alpine Road is a masterpiece of engineering that winds its way through the heart of the Hohe Tauern National Park. This panoramic road offers awe-inspiring views of snow-capped peaks, glaciers, and pristine alpine landscapes. Travelers can enjoy numerous viewpoints, alpine information centers, and hiking trails along the route, providing an immersive experience of the Austrian Alps' grandeur.
Alpine Lakes Route:
The Alpine Lakes Route showcases the crystal-clear lakes nestled amidst the mountainous scenery. Starting from Lake Wolfgangsee and stretching to the picturesque Zell am See, this route takes you through charming villages, lush valleys, and serene lakeshores. Enjoy leisurely walks, boat rides, and water activities while soaking in the tranquility and natural beauty of the alpine lakes.
Zillertal High Alpine Road:
The Zillertal High Alpine Road is a scenic route that winds through the Zillertal Valley, renowned for its stunning mountain vistas and authentic Tyrolean culture. The road offers panoramic views of towering peaks, lush meadows, and cascading waterfalls. Along the way, stop at traditional alpine huts, enjoy local cuisine, and explore hiking trails that lead to hidden alpine wonders.
Arlberg Panorama Road:
The Arlberg Panorama Road takes you on a mesmerizing journey through the iconic Arlberg region. Marvel at the dramatic mountain scenery, deep gorges, and verdant valleys as you drive through this picturesque route. Make stops at charming alpine villages, visit historic landmarks, and savor regional delicacies for an authentic taste of the Austrian Alps.
Eagle's Nest Road:
The Eagle's Nest Road, near the border of Austria and Germany, offers a thrilling drive through alpine landscapes and historic sites. This mountainous route takes you to the famed Eagle's Nest, Adolf Hitler's former mountain retreat, which now serves as a unique museum and viewpoint. Enjoy panoramic vistas, learn about World War II history, and indulge in the alpine beauty that surrounds you.
Salzkammergut Lakes Region:
The Salzkammergut Lakes Region is a picturesque area characterized by shimmering lakes, charming towns, and lush forests. Explore the enchanting Wolfgangsee, Hallstättersee, and Mondsee, known for their crystal-clear waters and postcard-perfect scenery. Embark on scenic boat rides, hike along the lakeshores, and immerse yourself in the idyllic atmosphere of this alpine paradise.
Tiroler Zugspitz Arena:
The Tiroler Zugspitz Arena is a playground for outdoor enthusiasts, offering a plethora of activities and stunning natural landscapes. Discover hiking trails that lead to breathtaking viewpoints, try your hand at mountain biking, or embark on thrilling paragliding adventures. The region's crown jewel is the Zugspitze, Germany's highest peak, accessible via cable car for panoramic views of the surrounding alpine vistas.
Styrian Wine Route:
For a different experience amidst the alpine scenery, the Styrian Wine Route takes you through vineyards, rolling hills, and charming wine-producing villages. Sample exquisite wines, explore ancient wine cellars, and savor the culinary delights of the region. This route offers a unique combination of alpine beauty and gastronomic pleasures.
---
The tourist routes in the Austrian Alps offer a captivating blend of natural beauty, cultural heritage, and outdoor adventures. From the breathtaking Grossglockner High Alpine Road to the serene lakes of the Salzkammergut region, each route presents a unique opportunity to explore the alpine wonders of Austria. Embark on these scenic journeys, immerse yourself in the enchanting landscapes, and create unforgettable memories in the heart of the Austrian Alps. Discover the magic of this alpine paradise, where adventure, natural splendor, and cultural treasures await at every turn.