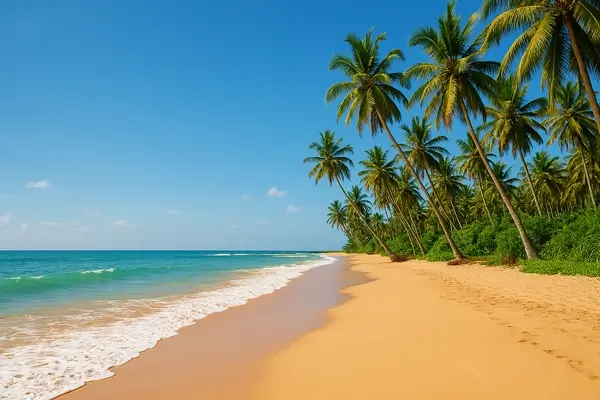 Photo from avatars.mds.yandex.net
Explore the Enchanting Wonders of Sri Lanka - A Comprehensive Travel Guide
Embark on an odyssey to Sri Lanka, where ancient traditions blend seamlessly with breathtaking landscapes. This in-depth guide unravels the island's treasures, guiding you through its tourist gems and hidden marvels.
Main Tourist Places and Attractions:
Discover the allure of Sri Lanka, from the sacred Temple of the Tooth Relic in Kandy to the ancient rock fortress of Sigiriya. Immerse yourself in the colonial charm of Galle Fort and unwind on the pristine beaches of Unawatuna.
Natural Parks and Reserves:
Escape to the wild wonders of Sri Lanka's natural reserves, including Yala National Park, home to diverse wildlife, and Horton Plains National Park, boasting panoramic views. Experience the serenity of Sinharaja Rainforest and explore the biodiversity of Udawalawe National Park.
Cultural and Historical Sites:
Delve into the rich history of Sri Lanka by visiting the ancient city of Anuradhapura, the cave temples of Dambulla, and the architectural marvels of Polonnaruwa. Witness the fusion of cultures at the Dutch Fort in Colombo and the sacred city of Kandy.
Seasonality and Best Months to Visit:
Plan your visit to Sri Lanka considering the diverse climates. December to March is ideal for the west and south coasts, while the east coast shines from April to September. Explore the Hill Country during the dry season from December to February.
Preparing for Various Weather Conditions:
Pack light clothing for coastal regions and modest attire for cultural sites. Carry a light jacket for the Hill Country and be prepared for occasional rainfall. Check regional weather forecasts for a comprehensive packing list.
Traditions and Customs:
Immerse yourself in Sri Lankan traditions by participating in religious ceremonies, such as the Esala Perahera in Kandy. Respect local customs by removing shoes before entering homes and temples. Engage with locals in a friendly exchange of smiles and greetings.
Local Cuisine and Restaurants:
Savor the diverse flavors of Sri Lankan cuisine, from spicy curries to delectable street food. Indulge in seafood delicacies along the coasts and sample traditional dishes like hoppers and kottu. Visit local markets for an authentic culinary experience.
Festivals and Events:
Time your visit with vibrant festivals like the Sinhala and Tamil New Year or the Vesak Festival, celebrating Buddha's birth, enlightenment, and passing away. Experience the cultural richness through colorful processions and traditional performances.
Adventure Opportunities:
Embark on thrilling adventures, including trekking in the Knuckles Mountain Range, cycling through tea plantations, and exploring the mysterious caves of Dambulla. Sri Lanka offers opportunities for both adrenaline enthusiasts and nature lovers.
Excursions and Tours:
Enhance your journey with guided tours to spice gardens, tea factories, and spice plantations. Join a boat safari in Bentota or explore the ancient mysteries of Ritigala. Tailor your excursions to capture the essence of Sri Lanka.
Visa Requirements and Documents:
Check Sri Lanka's visa requirements based on your nationality and apply in advance. Ensure your passport has at least six months of validity. Carry both physical and digital copies of important documents for a smooth travel experience.
Safety and Traveler's Health:
Maintain caution against petty crimes and be vigilant in crowded areas. Stay hydrated in tropical climates and carry basic medications. Sri Lanka generally maintains good health and safety standards for travelers.
Travel Planning Tips:
Plan your itinerary wisely to optimize travel time between regions. Consider cultural nuances and local etiquette in different areas. Research and book accommodations and excursions in advance for a hassle-free experience.
Hotels and Accommodations:
Choose accommodations based on your preferences, whether it's a beachfront resort in Mirissa or a boutique guesthouse in Ella. Sri Lanka provides a range of options, from luxurious hotels to cozy homestays.
Transportation and Getting Around:
Navigate Sri Lanka efficiently with a combination of trains, buses, and tuk-tuks. Enjoy scenic train rides through the Hill Country and utilize tuk-tuks for short distances. Plan your routes to experience the best of Sri Lanka's landscapes.
Best Areas for Accommodation:
Select accommodations based on your interests, whether it's the historic charm of Galle or the tranquility of Ella. Opt for beachside resorts for a coastal retreat or choose centrally located hotels for easy exploration.
Local Residents and Their Customs:
Engage respectfully with locals, understanding their conservative values and cultural practices. Learn a few Sinhala phrases to enhance communication and participate in local activities to foster connections.
Sri Lanka invites you on a journey of discovery, where ancient wonders and natural beauty converge. Embrace the warmth of its people, savor exquisite cuisine, and let the magic of Sri Lanka create memories that linger long after your travels.