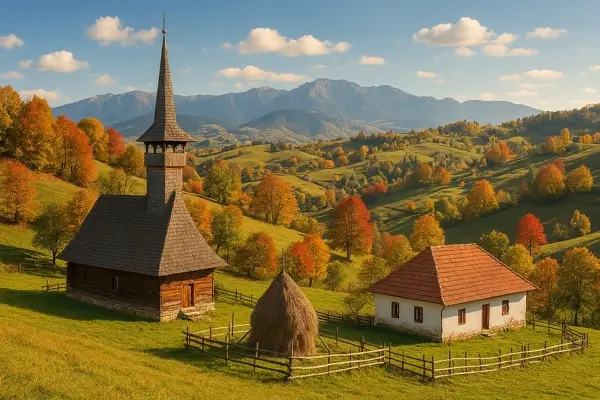 Photo from unsplash.com
Unveiling Romania: A Journey into Eastern European Splendor
Embark on a captivating odyssey to Romania, a land where centuries-old traditions meet breathtaking landscapes. This guide is your key to unlocking the treasures of this Eastern European gem.
Main Tourist Places and Attractions:
Marvel at the Gothic charm of Bran Castle, explore the medieval streets of Sibiu, and wander through the painted monasteries of Bucovina.
Natural Parks and Reserves:
Discover the untamed beauty of the Carpathian Mountains, hike the trails of Piatra Craiului National Park, and witness the pristine landscapes of the Danube Delta.
Cultural and Historical Sites:
Step into the past at the fortified churches of Transylvania, visit the legendary Peles Castle, and explore the historic center of Bucharest, showcasing a blend of architectural styles.
Seasonality and Best Months to Visit:
Experience the vibrant colors of autumn in October, enjoy the mild weather of spring (April to June), or relish the lively atmosphere of summer (July to August).
Preparing for Various Weather Conditions:
Pack layers for fluctuating temperatures, and bring waterproof gear for unexpected rain, especially in the mountainous regions.
Traditions and Customs:
Participate in lively folk festivals, witness traditional dance performances, and savor the warmth of Romanian hospitality during local celebrations.
Local Cuisine and Restaurants:
Indulge in hearty dishes like mămăligă (cornmeal porridge), try the iconic sarmale (cabbage rolls), and explore local markets for artisanal cheeses and wines.
Festivals and Events:
Celebrate the uniqueness of Romanian culture at the Sibiu International Theatre Festival, witness the enigmatic rituals of the Junii Brasovului, and join the vibrant Bucharest International Film Festival.
Adventure Opportunities:
Embark on scenic hikes in the Bucegi Mountains, cycle through the Transfagarasan Highway, and explore the caves of Apuseni National Park.
Excursions and Tours:
Take a journey through Dracula's legends in Transylvania, cruise the serene waters of the Danube Delta, and explore the charming medieval villages of Maramures.
Visa Requirements and Documents:
Check visa requirements based on your nationality, ensuring your passport has at least six months of validity beyond your planned departure.
Safety and Traveler's Health:
Romania is generally safe for travelers. Take standard precautions, have travel insurance, and be aware of local healthcare facilities.
Travel Planning Tips:
Learn a few basic Romanian phrases, respect local customs, and plan your itinerary to include a mix of cultural exploration and outdoor adventures.
Hotels and Accommodations:
Choose from boutique hotels in Brasov's Old Town, experience traditional guesthouses in Maramures, or stay in elegant options in Bucharest for a comfortable retreat.
Transportation and Getting Around:
Utilize Romania's efficient train network, consider renting a car for rural exploration, and enjoy leisurely walks in pedestrian-friendly city centers.
Best Areas for Accommodation:
Select accommodations in the heart of Bucharest's Lipscani district or in the medieval ambiance of Sibiu's Old Town for an authentic experience.
Local Residents and Their Customs:
Romanians are known for their warm hospitality. Greet with a friendly "Bună ziua" and embrace the genuine friendliness of the locals.
Romania unfolds as a tapestry of history, culture, and natural wonders, inviting you to immerse yourself in an enriching travel experience.