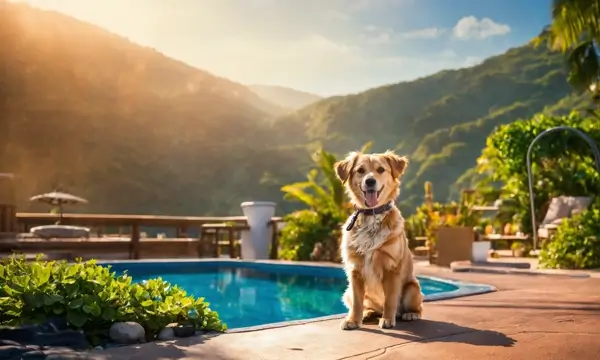 Photo from unsplash.com
Planning a vacation can be a challenging task when you have a beloved furry friend to consider. Fortunately, pet-friendly resorts have emerged as a popular trend, offering accommodations and amenities tailored to cater to the needs of both you and your pets. In this article, we will explore the world of pet-friendly resorts, highlighting destinations where you can create unforgettable vacations with your four-legged companions.
Carmel, California, United States:
Carmel has gained a reputation as one of the most pet-friendly destinations in the world. The city boasts beautiful dog-friendly beaches, walking trails, and even pet-friendly restaurants. Numerous resorts in Carmel provide pet-friendly accommodations and amenities, ensuring that your furry friend can enjoy the vacation experience with you.
Lake District, United Kingdom:
The Lake District in the United Kingdom offers a stunning natural backdrop for you and your pet to explore. With picturesque lakes, rolling hills, and charming villages, this region is perfect for outdoor enthusiasts. Many accommodations in the Lake District welcome pets and provide pet-friendly facilities to ensure a comfortable stay for all.
Whistler, British Columbia, Canada:
Whistler, known for its world-class ski slopes, also caters to pet owners. Several resorts in Whistler offer pet-friendly accommodations, and the surrounding area provides ample opportunities for outdoor adventures with your furry friend. From hiking and snowshoeing to enjoying pet-friendly patio dining, Whistler ensures an inclusive and enjoyable experience for pets and their owners.
Lake Garda, Italy:
Lake Garda, nestled in the stunning Italian countryside, offers a pet-friendly escape for travelers. Many hotels and resorts in this region welcome pets, allowing you to enjoy the scenic beauty, charming towns, and lakefront activities with your furry companion. From leisurely walks along the lakeside promenades to pet-friendly boat tours, Lake Garda ensures a memorable vacation for all.
Gold Coast, Queensland, Australia:
The Gold Coast in Australia is renowned for its beautiful beaches and vibrant city life. Many resorts and accommodations in this area understand the importance of pet-friendly travel, providing a range of pet-friendly options. Explore the golden sand beaches, visit pet-friendly parks, and dine at pet-friendly cafes and restaurants while enjoying your vacation with your beloved pet.
Traveling with your pets no longer means leaving them behind. Pet-friendly resorts around the world are committed to providing exceptional experiences for both you and your furry friends. From Carmel's dog-friendly beaches to the Lake District's picturesque landscapes, Whistler's outdoor adventures, Lake Garda's Italian charm, and the Gold Coast's beachside fun, these destinations ensure that your pets are welcome and well-catered for during your vacation. With the growing demand for pet-friendly travel, these resorts are leading the way in creating memorable and inclusive experiences that allow you to share unforgettable moments with your beloved pets.