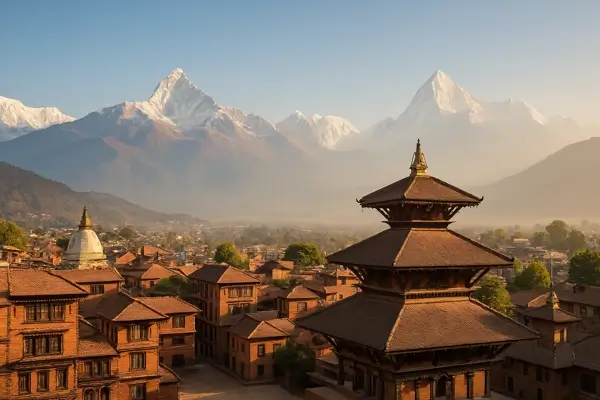 Photo from unsplash.com
Explore Nepal's Enchanting Beauty: A Comprehensive Travel Guide
Embark on a mesmerizing journey to Nepal, where ancient traditions blend seamlessly with breathtaking landscapes. This guide unveils the wonders of Nepal, providing insights into its diverse attractions, cultural richness, and adventure opportunities.
Main Tourist Attractions:
Discover the majesty of Mount Everest, explore the ancient city of Kathmandu, and marvel at the serene beauty of Phewa Lake in Pokhara.
Natural Parks and Reserves:
Immerse yourself in the pristine nature of Chitwan National Park, home to rare wildlife, and experience the tranquility of Annapurna Conservation Area.
Cultural and Historical Sites:
Visit the sacred Pashupatinath Temple, explore the mystical Swayambhunath Stupa, and walk through the ancient Bhaktapur Durbar Square.
Seasonality and Best Months to Visit:
Opt for the pre-monsoon (spring) and post-monsoon (autumn) seasons for clear skies and pleasant temperatures, ideal for trekking and sightseeing.
Preparing for Various Weather Conditions:
Pack layers, sturdy shoes, and rain gear. Be prepared for temperature fluctuations, especially in mountainous regions.
Traditions and Customs:
Experience the lively festivals of Dashain and Tihar, participate in traditional Newari rituals, and respect local customs when visiting sacred sites.
Local Cuisine and Restaurants:
Indulge in momos (dumplings), dal bhat (lentil curry), and Newari specialties. Explore local teahouses for a taste of authentic Nepalese cuisine.
Festivals and Events:
Celebrate Dashain, the longest and most significant festival, and witness the vibrant colors of the Holi festival. Engage in local celebrations for an immersive experience.
Adventure Opportunities:
Embark on the Everest Base Camp trek, go paragliding over Pokhara, and enjoy white-water rafting in the Trishuli River.
Excursions and Tours:
Take a guided tour of Kathmandu's UNESCO World Heritage Sites, trek the Annapurna Circuit, and explore the hidden gems of Rara Lake.
Visa Requirements and Documents:
Check visa requirements based on your nationality, ensure your passport has sufficient validity, and obtain necessary permits for trekking.
Safety and Traveler's Health:
Be cautious in high-altitude areas, stay hydrated, and carry a basic first aid kit. Acclimatize properly during treks to prevent altitude sickness.
Travel Planning Tips:
Plan ahead for trekking permits, respect local customs, and be open to the simplicity of rural accommodations during treks.
Hotels and Accommodations:
Choose from luxury hotels in Kathmandu and Pokhara, or experience traditional teahouse stays during treks for a unique cultural immersion.
Transportation and Getting Around:
Utilize local buses and taxis for short distances, and domestic flights for longer routes. Embrace the scenic beauty of road journeys.
Best Areas for Accommodation:
Thamel in Kathmandu offers a bustling atmosphere, while Lakeside in Pokhara provides a serene lakeside experience.
Local Residents and Their Customs:
Engage with locals, learn basic Nepali phrases, and respect the simple yet profound customs of the Nepalese people.
Nepal, with its harmonious blend of culture and nature, promises an unforgettable journey. Let this guide be your companion as you delve into the heart of this Himalayan paradise.