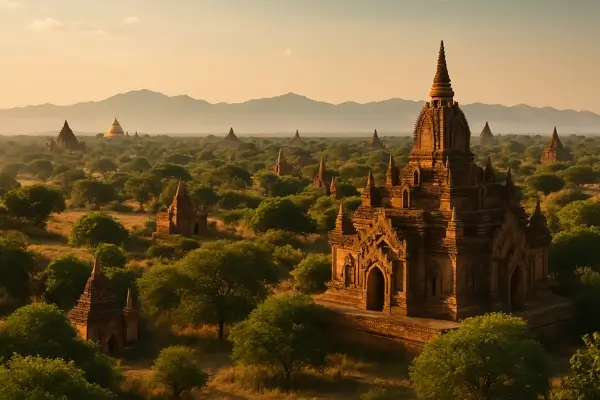 Photo from unsplash.com
Explore Myanmar: A Tapestry of Culture, Nature, and Adventure
Embark on a mesmerizing journey to Myanmar, where ancient traditions meet breathtaking landscapes. This guide unveils the treasures of Myanmar, ensuring an unforgettable travel experience.
Main Tourist Attractions:
Discover the awe-inspiring beauty of Bagan's ancient temples, cruise along Inle Lake's serene waters, and explore the cultural richness of Yangon's Shwedagon Pagoda.
Natural Parks and Reserves:
Immerse yourself in the pristine beauty of Hlawga National Park, witness the biodiversity of Alaungdaw Kathapa National Park, and trek through the lush landscapes of Nat Ma Taung National Park.
Cultural and Historical Sites:
Uncover the history of Mandalay at the Mandalay Palace, delve into the spiritual significance of the Mahamuni Buddha Temple, and explore the ancient city of Mrauk U.
Seasonality and Best Months to Visit:
Plan your visit during the cool, dry season (November to February) for comfortable temperatures and clear skies. Avoid the monsoon season (June to September) for a more pleasant experience.
Preparing for Various Weather Conditions:
Pack lightweight clothing for the hot season, bring a rain jacket for the occasional downpour during the monsoon, and include modest attire for visits to religious sites.
Traditions and Customs:
Experience the local warmth through the traditional greeting, "Mingalabar," participate in almsgiving ceremonies, and learn about the significance of the traditional longyi.
Local Cuisine and Restaurants:
Indulge in the diverse flavors of Myanmar's cuisine, savor Mohinga (fish noodle soup), and explore local markets for authentic culinary experiences.
Festivals and Events:
Celebrate the luminous Tazaungdaing Lighting Festival, witness the grandeur of Thingyan Water Festival, and immerse yourself in the spirituality of Phaung Daw Oo Pagoda Festival.
Adventure Opportunities:
Embark on a trek to the tribal villages of Shan State, cruise through the Goteik Viaduct on the Mandalay to Hsipaw train, and soar in a hot air balloon over the temples of Bagan.
Excursions and Tours:
Join a boat tour to explore the floating gardens of Inle Lake, hike to the Golden Rock at Kyaiktiyo, and take a cruise along the Irrawaddy River for a scenic adventure.
Visa Requirements and Documents:
Check Myanmar's visa requirements, ensure your passport has sufficient validity, and obtain necessary permits for restricted areas. Research and plan accordingly.
Safety and Traveler's Health:
Follow safety guidelines, be cautious in remote areas, and stay hydrated. Consult a healthcare professional for vaccinations and carry essential medications.
Travel Planning Tips:
Plan ahead for accommodation, be respectful of local customs, and engage with reputable tour operators for a smoother travel experience.
Hotels and Accommodations:
Choose from boutique hotels in Yangon, traditional teakwood guesthouses in Mandalay, or lakeside resorts in Inle Lake for a diverse range of experiences.
Transportation and Getting Around:
Utilize domestic flights for long distances, explore cities on foot or by bicycle, and experience a scenic train journey for a unique perspective of the country.
Best Areas for Accommodation:
Opt for accommodations in the heart of Yangon for a blend of urban and cultural experiences, stay by Inle Lake for tranquil surroundings, or choose Mandalay for its historical significance.
Local Residents and Their Customs:
Respect local customs, learn a few phrases in Burmese, and engage with the friendly locals to enrich your cultural experience.
Myanmar, with its ancient allure and natural splendor, promises an odyssey of discovery. Let this guide be your compass as you unravel the mysteries of this enchanting destination.