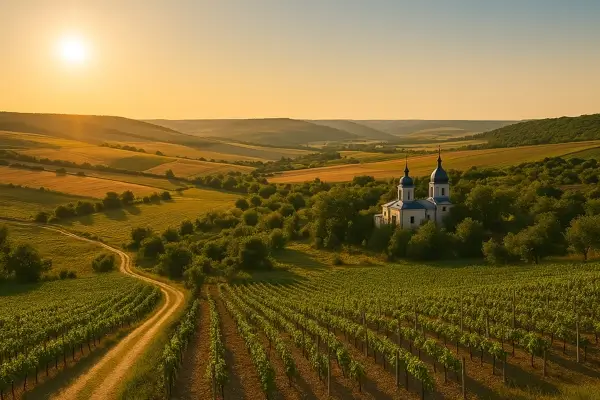 Photo from unsplash.com
Discover Moldova: A Journey into Eastern European Charms
Embark on a unique adventure to Moldova, an Eastern European gem waiting to be explored. This travel guide unveils the beauty of Moldova, from its rich cultural tapestry to the picturesque landscapes that define this hidden treasure.
Main Tourist Attractions:
Marvel at the architectural wonders of the Capriana Monastery, explore the historical significance of the Soroca Fortress, and wander through the scenic vineyards of Milestii Mici. Moldova's attractions offer a blend of history, culture, and natural beauty.
Natural Parks and Reserves:
Immerse yourself in the untouched landscapes of Codru National Park, witness the diverse flora and fauna of the Lower Dniester National Park, and enjoy the serenity of the Padurea Domneasca Reserve. Moldova's natural parks showcase the country's environmental diversity.
Cultural and Historical Sites:
Step back in time at the Old Orhei archaeological complex, appreciate the artistic heritage at the Pushkin Museum, and delve into Moldova's history at the National Museum of Ethnography and Natural History. The country's cultural and historical sites narrate a captivating story.
Seasonality and Best Months to Visit:
Visit Moldova in late spring or early autumn for pleasant weather and vibrant landscapes. These seasons provide an ideal backdrop for exploring outdoor attractions and cultural events.
Preparing for Various Weather Conditions:
Pack layers for varying temperatures, including lightweight clothing for summer and warmer options for winter. Ensure waterproof gear and comfortable shoes for exploring the diverse terrain.
Traditions and Customs:
Experience Moldova's hospitality through traditional dances, partake in local festivals, and witness the intricate craftsmanship of traditional costumes. Respecting Moldovan customs enhances the authenticity of your travel experience.
Local Cuisine and Restaurants:
Indulge in Moldova's culinary delights, from the iconic Mămăligă to the renowned Plăcinte pastries. Savor Moldovan wines at Cricova Winery or enjoy a traditional meal at La Taifas. Moldova's cuisine is a delightful journey for your taste buds.
Festivals and Events:
Celebrate Moldova's wine culture at the National Wine Day, join the vibrant atmosphere of Martisor, and experience the Livada de Mere Festival. Moldova's festivals showcase the country's lively spirit and cultural richness.
Adventure Opportunities:
Embark on hiking trails in the Codru National Park, explore the Dniester River on a kayak, and cycle through the picturesque countryside. Moldova offers various opportunities for outdoor enthusiasts.
Excursions and Tours:
Discover the mysteries of the Old Orhei archaeological complex, embark on a wine-tasting tour in Cricova, and explore the vibrant atmosphere of Chisinau. Moldova's excursions promise a blend of history, culture, and leisure.
Visa Requirements and Documents:
Check Moldova's visa requirements and ensure your documents are in order before traveling. Most travelers enjoy visa-free access, but it's crucial to stay updated on entry requirements.
Safety and Traveler's Health:
Moldova is generally safe for travelers, but it's advisable to exercise standard precautions. Ensure you have travel insurance and stay informed about health guidelines, especially during the ongoing pandemic.
Travel Planning Tips:
Learn a few basic phrases in Romanian, the official language, and familiarize yourself with local transportation options. Moldova's friendly locals appreciate visitors who embrace the local way of life.
Hotels and Accommodations:
Experience luxury at the Radisson Blu Leogrand Hotel, enjoy a cozy stay at the Boutique Hotel Berd's, or opt for a guesthouse in rural areas for an authentic experience. Moldova offers diverse accommodation options.
Transportation and Getting Around:
Navigate Moldova through a well-connected network of buses, trolleybuses, and taxis. Renting a car is also a convenient option for exploring the countryside. Public transportation is cost-effective and efficient.
Best Residential Areas:
Discover the vibrant atmosphere of Chisinau, the capital city, or opt for a tranquil stay in rural areas like Trebujeni. Moldova's residential areas offer a diverse range of experiences.
Local Residents and Customs:
Engage with Moldova's warm-hearted locals, respect their traditions, and participate in local events. Moldovans appreciate visitors who show genuine interest in their culture and way of life.
Moldova, with its blend of history, culture, and natural beauty, promises an enriching travel experience. This comprehensive guide equips you with the knowledge to navigate Moldova's treasures and create lasting memories.