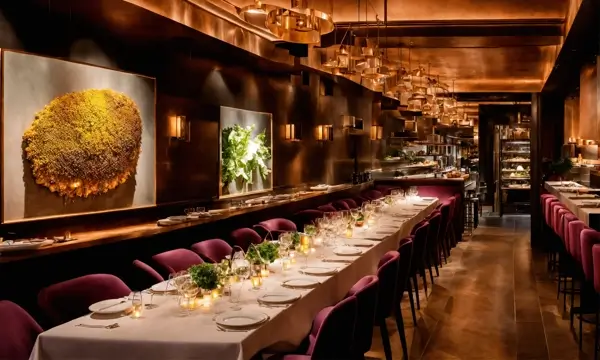 Photo from stillinbelgrade.com
The world of gastronomy is replete with exceptional talents, and Michelin-starred restaurants serve as a testament to the culinary mastery of renowned chefs. These establishments, situated in cities across the globe, offer an exquisite dining experience where exceptional flavors and artistic presentations converge. In this article, we will embark on a journey to explore a selection of Michelin-starred restaurants, featuring the names of legendary chefs, the cities they reside in, and a tantalizing glimpse into their signature menus.
Restaurant: El Celler de Can Roca
Chef: Joan Roca
City: Girona, Spain
Sample Menu:
Oyster with liquid hazelnut

Pigeon with crunchy skin and caramelized apricots

Vanilla-scented brioche with ice cream and truffle
---
Restaurant: Noma
Chef: René Redzepi
City: Copenhagen, Denmark
Sample Menu:
Salted and grilled king crab with wild berries and seaweed

Caramelized milk and fermented mushroom

Pine cones with chocolate and roasted yeast
---
Restaurant: Osteria Francescana
Chef: Massimo Bottura
City: Modena, Italy
Sample Menu:
Memory of a mortadella sandwich

The crunchy part of the lasagna

Oops! I dropped the lemon tart
---
Restaurant: Eleven Madison Park
Chef: Daniel Humm
City: New York City, USA
Sample Menu:
Foie gras with honey-roasted pear and black truffle

Slow-cooked halibut with spring vegetables and herb emulsion

Milk and honey with bee pollen and lavender
---
Restaurant: Alinea
Chef: Grant Achatz
City: Chicago, USA
Sample Menu:
Edible balloon filled with helium and green apple taffy

Black truffle explosion with romaine and parmesan

Squab with charred onion, olive, and thyme
---
Restaurant: The French Laundry
Chef: Thomas Keller
City: Yountville, USA
Sample Menu:
Oysters and pearls: Sabayon of pearl tapioca with Island Creek oysters and white sturgeon caviar

Butter-poached Maine lobster with sautéed chanterelles and shaved summer truffles

Chocolate mousse with caramelized bananas and hazelnut crunch
---
Restaurant: Alain Ducasse au Plaza Athénée
Chef: Alain Ducasse
City: Paris, France
Sample Menu:
Blue lobster roasted in its shell, crunchy vegetables, and coral jus

Roasted pigeon, seasonal baby vegetables, and thyme-scented jus

Chocolate soufflé with Madagascan vanilla ice cream
---
Restaurant: The Fat Duck
Chef: Heston Blumenthal
City: Bray, UK
Sample Menu:
Salmon poached with licorice, asparagus, and vanilla mayonnaise

Slow-cooked duck breast with spiced carrot purée and orange sauce

Botrytis Cinerea: Botrytis-infected dessert wine served with various accompaniments
---
Restaurant: Maison Pic
Chef: Anne-Sophie Pic
City: Valence, France
Sample Menu:
Blue lobster with sweet and sour citrus fruit

Saddle of lamb with cardamom, apricot, and spinach

Chartreuse soufflé with lemon verbena sorbet
---
Restaurant: Narisawa
Chef: Yoshihiro Narisawa
City: Tokyo, Japan
Sample Menu:
Essence of the forest: Seasonal vegetables, roots, and herbs

Satoyama sceneries: Grilled Ayu fish with preserved sakura leaves and pickled sansho pepper

Sumi: Charcoal-grilled wagyu beef with seasonal accompaniments
---
Michelin-starred restaurants represent the pinnacle of culinary achievement, and the legendary chefs behind these establishments continue to push the boundaries of gastronomic innovation. From the avant-garde creations at Alinea to the artistic plates of El Celler de Can Roca, each restaurant offers a unique culinary journey that captivates the senses. These culinary maestros, situated in cities around the world, craft menus that are a testament to their exceptional skills, showcasing a harmonious blend of flavors, textures, and presentation. Dining at these revered establishments is an experience that transcends mere sustenance, immersing guests in a world of gastronomic excellence that will forever be etched in their memories.