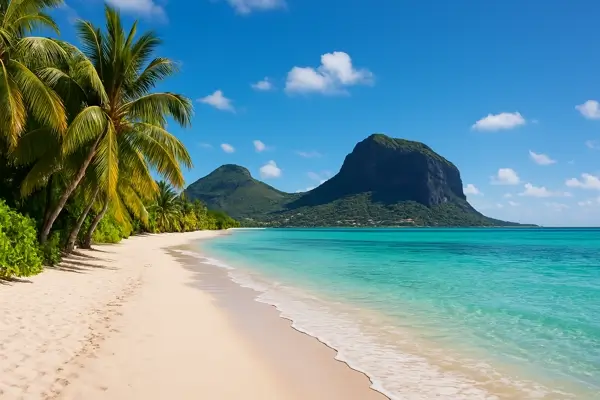 Photo from unsplash.com
Discover Mauritius: Your Gateway to Tropical Paradise
Embark on a tropical odyssey to Mauritius, a jewel in the Indian Ocean known for its pristine beaches, vibrant culture, and lush landscapes. This guide is your key to unlocking the secrets of this idyllic destination.
Main Tourist Attractions:
Explore the enchanting beauty of Trou aux Cerfs volcano, unwind on the iconic beaches of Flic en Flac, and delve into the cultural richness of the capital, Port Louis. Mauritius beckons with a myriad of must-visit attractions.
Natural Parks and Reserves:
Immerse yourself in the verdant wonders of Black River Gorges National Park, home to unique flora and fauna. Discover the serenity of Île aux Aigrettes, a nature reserve dedicated to preserving endangered species.
Cultural and Historical Sites:
Step back in time at Aapravasi Ghat, a UNESCO World Heritage Site narrating the island's history. Uncover the tales behind the colonial architecture of Eureka House and the sacredness of Maheswarnath Mandir.
Seasonality and Best Months to Visit:
Plan your trip during the pleasant months of May to December, avoiding cyclone season. Enjoy the cool, dry weather, perfect for exploring beaches, parks, and cultural sites.
Preparing for Various Weather Conditions:
Pack light clothing for the warm coastal areas and warmer layers for higher altitudes. Don't forget sunscreen, a hat, and mosquito repellent for added comfort during your stay.
Traditions and Customs:
Participate in the vibrant Holi festival, witness the Diwali celebrations, and experience the warmth of Sega dance, a traditional Mauritian performance. Respectful engagement with local customs enhances your cultural experience.
Local Cuisine and Restaurants:
Savor the diverse Creole flavors with dishes like dholl puri and fish vindaye. Explore local markets for street food delights and indulge in fine dining at beachfront restaurants for an authentic taste of Mauritius.
Festivals and Events:
Join the festivities of Cavadee, a Tamil celebration of devotion, and experience the joyousness of the Maha Shivaratri pilgrimage. Mauritius' calendar is dotted with cultural events that offer a glimpse into the island's soul.
Adventure Opportunities:
Embark on hiking trails in the Black River Gorges, conquer the underwater world with scuba diving in Blue Bay Marine Park, and take a quad bike adventure through the scenic landscapes. Mauritius caters to thrill-seekers.
Excursions and Tours:
Sail to Île aux Cerfs for a day of leisure, embark on a catamaran cruise to encounter dolphins, and tour the historic sites of Port Louis. Guided excursions ensure an immersive exploration of the island's treasures.
Visa Requirements and Documents:
Check visa requirements based on your nationality, ensure passport validity, and have return tickets. Mauritius generally has a straightforward visa process for tourists.
Safety and Traveler's Health:
Follow safety guidelines for water activities, stay hydrated, and take precautions against mosquito bites. Mauritius prioritizes tourist safety, contributing to a secure and healthy visit.
Travel Planning Tips:
Learn a few phrases in Mauritian Creole, the local language, and embrace the laid-back island pace. Familiarize yourself with local customs to ensure a smooth and respectful journey.
Hotels and Accommodations:
Choose from luxury resorts in Grand Baie, beachfront hotels in Belle Mare, or boutique guesthouses in Mahebourg. Mauritius offers a spectrum of accommodations catering to various preferences.
Transportation and Getting Around:
Utilize taxis for short distances, rent a car for more extensive exploration, and consider the efficient public bus system. Navigating Mauritius is convenient, with numerous options for transportation.
Best Residential Areas:
Experience the vibrant energy of Grand Baie, the tranquility of Trou aux Biches, or the historical charm of Mahebourg. Each area in Mauritius provides a unique perspective on island living.
Local Residents and Customs:
Engage with the friendly Mauritians, respect local customs, and join in the communal spirit of festivals. Connecting with locals enriches your understanding of the island's culture.
Mauritius, with its captivating landscapes and rich cultural tapestry, invites you to create memories that last a lifetime. This guide ensures you unravel the essence of this tropical paradise, making the most of your journey.