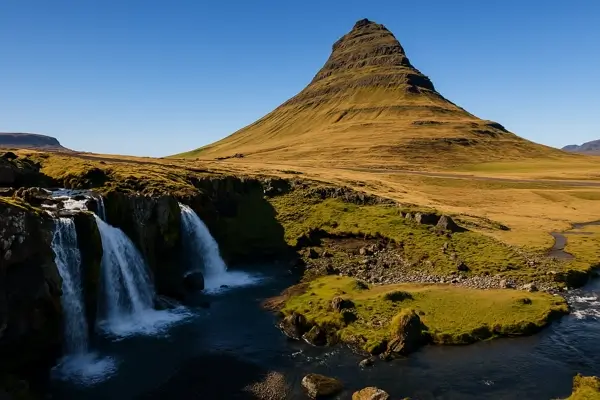 Photo from unsplash.com
Exploring the Wonders of Iceland: A Comprehensive Travel Guide
Embark on an extraordinary adventure to Iceland, a land of captivating landscapes and rich cultural heritage. This guide is your key to unlocking the secrets of this Nordic island, where fire and ice coexist in a symphony of natural beauty.
Main Tourist Attractions:
Discover the awe-inspiring beauty of the Golden Circle, marvel at the mighty Gullfoss waterfall, and witness the otherworldly landscapes of the Jökulsárlón glacier lagoon. Iceland's main attractions are a testament to its unique geological features.
Natural Parks and Reserves:
Explore the raw wilderness of Vatnajökull National Park, traverse the volcanic wonders of Landmannalaugar, and witness the power of the Strokkur geyser in the Geysir Geothermal Area. Iceland's natural parks showcase the island's untamed beauty.
Cultural and Historical Sites:
Uncover the history of the Þingvellir National Park, visit the iconic Hallgrímskirkja in Reykjavik, and wander through the turf houses at Skógar Folk Museum. Iceland's cultural and historical sites narrate tales of resilience and creativity.
Seasonality and Best Months to Visit:
Plan your visit during summer (June to August) for endless daylight and vibrant landscapes, or winter (December to February) for a chance to witness the enchanting Northern Lights.
Preparing for Various Weather Conditions:
Pack layers, waterproof clothing, and sturdy hiking boots. Iceland's weather can be unpredictable, so be prepared for rain, wind, and sudden changes in conditions.
Traditions and Customs:
Participate in the annual Thorrablot feast, experience the uniqueness of the Icelandic Yule Lads, and engage in the tradition of swimming in geothermal pools. Iceland's traditions are deeply rooted in folklore and communal celebrations.
Local Cuisine and Restaurants:
Indulge in Icelandic delicacies like fermented shark, smoked lamb, and the famous Skyr. Reykjavik's culinary scene offers a blend of traditional Nordic flavors and modern twists.
Festivals and Events:
Celebrate the creativity of Icelandic musicians at the Iceland Airwaves Festival, witness the excitement of the Reykjavik Arts Festival, and join in the festivities of the National Day on June 17th.
Adventure Opportunities:
Embark on a glacier hike in Skaftafell, traverse the Laugavegur hiking trail, and dive into the Silfra Fissure for a unique snorkeling experience. Iceland provides unparalleled opportunities for adventure seekers.
Excursions and Tours:
Explore the magical world of ice caves in Vatnajökull, sail among the whales in Húsavík, and journey into the heart of a volcano. Guided tours offer a deeper understanding of Iceland's natural wonders.
Visa Requirements and Documents:
Check Iceland's visa requirements based on your nationality, ensure your passport validity, and have proof of accommodation. Research health recommendations and ensure you have travel insurance.
Safety and Traveler's Health:
Iceland is considered one of the safest countries in the world. Be aware of natural hazards, dress appropriately for the weather, and carry essential medications. Emergency services are readily available.
Travel Planning Tips:
Rent a car for flexibility, embrace the Icelandic phrasebook, and respect the local environment. Iceland's efficient transportation system and friendly locals make exploration seamless.
Hotels and Accommodations:
Choose from cozy guesthouses in Akureyri, luxurious hotels in Reykjavik, or remote cabins in the countryside. Iceland offers a range of accommodations catering to different preferences.
Transportation and Getting Around:
Rent a car to explore the Ring Road, utilize domestic flights for longer distances, and use buses for budget-friendly travel. Iceland's well-maintained roads make self-driving a popular choice.
Best Residential Areas:
Experience Reykjavik's vibrant culture, relax in the quiet beauty of Akureyri, or immerse yourself in the tranquility of the Westfjords. Iceland's regions offer diverse atmospheres for every traveler.
Local Residents and Customs:
Icelanders are known for their warm hospitality. Engage with locals, embrace their customs, and enjoy the genuine friendliness of Icelandic communities. Respect for nature and people is deeply ingrained in their culture.
Iceland, with its breathtaking landscapes and rich cultural tapestry, invites you to embark on a journey of discovery. Whether chasing waterfalls, witnessing the Aurora Borealis, or embracing local traditions, Iceland promises an adventure like no other.