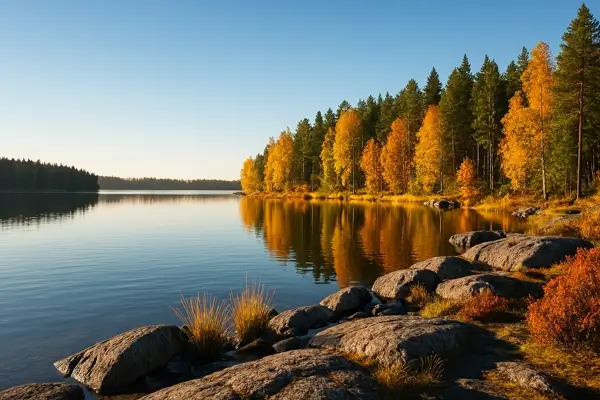 Photo from unsplash.com
Embracing Nordic Wonders: Your Comprehensive Guide to Finland's Charms
Embark on an enchanting journey to Finland, where captivating landscapes, rich traditions, and modern marvels converge. This detailed travel guide is your key to discovering the best of Finland, offering insights into its natural wonders, cultural treasures, and the warmth of its people.
Main Tourist Attractions:
From the vibrant capital, Helsinki, to the magical Arctic Circle, Finland is a tapestry of wonders. Explore the architectural marvel of Helsinki Cathedral, witness the Northern Lights in Lapland, and wander through the medieval streets of Porvoo, Finland's second oldest town.
Natural Parks and Reserves:
Immerse yourself in the pristine beauty of Nuuksio National Park, known for its tranquil lakes and dense forests. Discover the rugged landscapes of Urho Kekkonen National Park, a haven for hikers and wildlife enthusiasts. Sail through the stunning archipelago of the Turku Archipelago National Park.
Cultural and Historical Sites:
Uncover Finland's history at the Seurasaari Open-Air Museum, featuring historic buildings from across the country. Visit the iconic Suomenlinna Fortress in Helsinki, a UNESCO World Heritage Site. Delve into the ancient past at the Sami Siida Museum in Inari.
Seasonality and Best Months to Visit:
Experience the magic of winter from December to February, ideal for witnessing the Northern Lights and engaging in winter sports. Summer, from June to August, offers long days and vibrant festivals. Autumn paints landscapes in golden hues, providing a unique charm.
Preparing for Various Weather Conditions:
Pack layers for the variable climate, including warm clothing for winter adventures and lightweight attire for summer explorations. Don't forget waterproof gear for unpredictable showers, especially in spring and autumn.
Traditions and Customs:
Participate in the sauna culture, a cornerstone of Finnish life. Embrace the tradition of "sisu," embodying resilience and determination. Respect the concept of personal space, and greet locals with a sincere "Moi" or "Hei."
Local Cuisine and Restaurants:
Indulge in Finnish delicacies such as Karjalanpiirakka (Karelian pasty) and Ruisleipä (rye bread). Experience a traditional "kalakukko" in Kuopio or savor the flavors of innovative Nordic cuisine at Helsinki's renowned restaurants like Olo.
Festivals and Events:
Join the Midsummer celebrations in June, a festive time when Finns embrace the outdoors. Attend the Rovaniemi Christmas market for a magical winter experience. Experience the Sibelius Festival in Lahti, celebrating Finland's renowned composer.
Adventure Opportunities:
Embark on a husky safari through Lapland's snowy landscapes or cruise the stunning Saimaa archipelago. Cycle along the picturesque lakeside routes or engage in adrenaline-pumping activities like white-water rafting in Kiiminki.
Excursions and Tours:
Take a reindeer sleigh ride under the Northern Lights or cruise the Baltic Sea archipelago. Explore the vibrant design scene in Helsinki or embark on a wildlife safari to spot Finland's diverse fauna.
Visa Requirements and Documents:
Check visa requirements based on your nationality and ensure your passport has at least three months' validity beyond your planned departure. Confirm the need for specific permits for activities like fishing or hunting.
Safety and Traveler's Health:
Finland boasts excellent healthcare, but ensure you have comprehensive travel insurance. Stay aware of your surroundings, especially in urban areas, and take precautions against ticks in rural regions.
Travel Planning Tips:
Plan your itinerary to include both urban exploration and wilderness adventures. Utilize Finland's efficient public transportation for seamless travel. Learn a few basic Finnish phrases to enhance your interaction with locals.
Hotels and Accommodations:
Choose from charming boutique hotels in Helsinki to cozy cottages in the Lakeland region. Book accommodations well in advance, especially during peak travel seasons. Experience the unique glass igloos in Rovaniemi for an unforgettable stay.
Transportation and Getting Around:
Utilize Finland's well-connected public transportation, including trains and buses, for hassle-free travel. Rent a car for exploring remote areas or opt for internal flights to cover longer distances. Enjoy the scenic landscapes on Finland's extensive road network.
Best Residential Areas:
Stay in Helsinki's Design District for a blend of culture and modern living. Experience Lapland's wilderness by staying in a traditional log cabin. Choose Tampere for a vibrant urban experience, surrounded by lakes and forests.
Local Residents and Customs:
Engage with locals at community events and markets, respecting their quiet nature. Understand the significance of silence in Finnish culture and embrace the Finnish concept of "Everyman's Right" when exploring nature.
Finland, a blend of natural wonders and cultural richness, invites you to explore its unique tapestry. Whether you seek the dance of the Northern Lights or the tranquility of its lakes, Finland promises an unforgettable journey through the heart of Scandinavia.