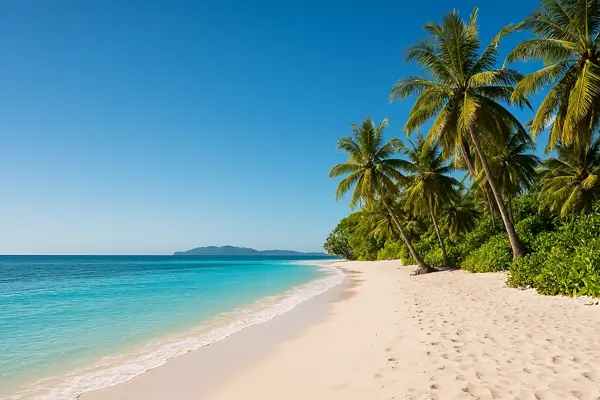 Photo from unsplash.com
Discovering Paradise: Your Ultimate Guide to Fiji's Enchanting Islands
Embark on a journey to the heart of the South Pacific, where turquoise waters, lush landscapes, and vibrant cultures await. This comprehensive travel guide unveils the treasures of Fiji, inviting you to explore its natural wonders, indulge in rich traditions, and experience the warmth of its people.
Main Tourist Attractions:
From the pristine beaches of Yasawa and Mamanuca to the cultural hub of Suva, Fiji offers a diverse array of attractions. Dive into the crystal-clear waters of the Great Astrolabe Reef, witness the cascading waterfalls of Taveuni, and discover the charm of the Garden of the Sleeping Giant.
Natural Parks and Reserves:
Immerse yourself in the ecological wonders of Bouma National Heritage Park, home to diverse flora and fauna. Explore the Sigatoka Sand Dunes National Park, a unique landscape shaped by winds. Dive into the underwater world of the Mamanuca Islands Marine Conservation Area.
Cultural and Historical Sites:
Uncover Fiji's past at the Fiji Museum in Suva, showcasing artifacts and exhibits. Visit the historic Levuka town, a UNESCO World Heritage Site. Engage in the traditional Fijian welcome ceremony, the "yaqona" ceremony, and witness mekes, traditional dances that tell stories of the islands.
Seasonality and Best Months to Visit:
Fiji's dry season (May to October) is ideal for outdoor activities and exploring. December to April brings warmer temperatures and occasional rain. Plan your visit to coincide with the vibrant Bula Festival in July for a cultural extravaganza.
Preparing for Various Weather Conditions:
Pack lightweight clothing, swimsuits, and sunscreen for the sunny days. Include a light rain jacket for occasional tropical showers. Mosquito repellent is essential, especially in more remote areas.
Traditions and Customs:
Embrace the Fijian spirit of hospitality by participating in a traditional kava ceremony. Respect local customs, such as dressing modestly in villages and removing hats when entering homes. Learn a few Fijian phrases to connect with locals.
Local Cuisine and Restaurants:
Savor the flavors of kokoda (Fijian ceviche) and lovo-cooked feasts prepared underground. Indulge in fresh seafood and tropical fruits. Dine at waterfront restaurants like Ports O' Call in Suva for a culinary journey through Fiji's diverse cuisine.
Festivals and Events:
Celebrate Fiji Day on October 10th with nationwide festivities. Join the Hibiscus Festival in Suva for a vibrant carnival atmosphere. Experience the Diwali Festival, showcasing Fiji's multiculturalism. Check local calendars for island-specific events.
Adventure Opportunities:
Explore the Yasawa Islands on a sailing adventure or embark on a scenic hike to the Sabeto Hot Springs and Mud Pool. Dive into the thriving underwater world with shark dives and coral reef explorations. Conquer the Upper Navua River on an exhilarating whitewater rafting excursion.
Excursions and Tours:
Take a boat trip to the stunning Blue Lagoon in the Yasawa Islands. Discover the vibrant marine life with a snorkeling tour in the Mamanucas. Explore the Tavoro Waterfalls on a guided hike through Bouma National Heritage Park.
Visa Requirements and Documents:
Check Fiji's visa requirements based on your nationality and ensure your passport has at least six months' validity. Obtain necessary permits for specific activities, such as diving or visiting protected areas.
Safety and Traveler's Health:
Take precautions against mosquito-borne illnesses with vaccinations and repellents. Stay hydrated in the tropical climate and be cautious with local wildlife. Familiarize yourself with emergency procedures and healthcare facilities.
Travel Planning Tips:
Plan a balanced itinerary, combining relaxation with adventurous activities. Respect local customs and engage with Fijian communities respectfully. Consider island-hopping for a diverse experience of Fiji's landscapes and cultures.
Hotels and Accommodations:
Choose from luxury resorts on Denarau Island to eco-friendly bures on more remote islands. Book accommodations in advance, especially during peak tourist seasons. Experience traditional Fijian hospitality at boutique hotels like Tokoriki Island Resort.
Transportation and Getting Around:
Utilize domestic flights, ferries, and water taxis for inter-island travel. Rent a car or use local buses for convenient transportation on the main islands. Embrace the laid-back pace of Fiji and enjoy scenic journeys between destinations.
Best Residential Areas:
Stay in the Coral Coast for a blend of cultural experiences and beachfront relaxation. Explore the vibrant city life in Suva, Fiji's capital. Choose luxury resorts on Yasawa Islands for secluded getaways or opt for family-friendly accommodations on the Mamanucas.
Local Residents and Customs:
Engage with locals by joining community activities and respecting village protocols. Learn about the "Fijian time" concept, embracing a relaxed and unhurried pace. Support local artisans and markets to contribute positively to the community.
Fiji, with its paradisiacal landscapes and warm-hearted people, beckons you to uncover its hidden gems. Whether you seek adventure, cultural immersion, or blissful relaxation, Fiji promises an unforgettable experience in the heart of the South Pacific.