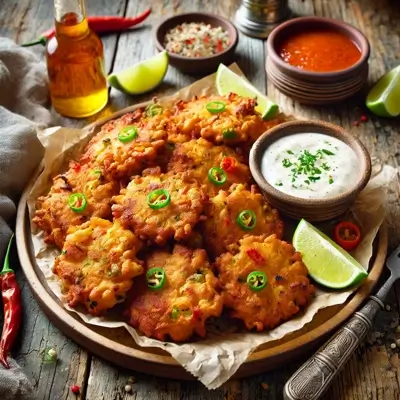 Photo from freepik.com
Indulge in the flavors of the ocean with our Conch Fritters recipe. Conch, a marine delicacy, is the star of this dish. These delectable fritters are crispy on the outside and tender on the inside, making them a perfect appetizer or snack for seafood enthusiasts.
Ingredients:
To make your own Conch Fritters, gather the following key ingredients:
1 lb conch meat, finely chopped
1 cup all-purpose flour
1/2 cup cornmeal
1 small onion, finely chopped
1 bell pepper, finely chopped
2 cloves garlic, minced
2 scallions, chopped
1/4 cup milk
2 eggs
2 teaspoons baking powder
1 teaspoon hot sauce
Salt and pepper to taste
Vegetable oil for frying
Dipping sauce (e.g., tartar sauce or hot sauce)
Instructions:
Follow these steps to create your Conch Fritters
Prepare the Conch:
Finely chop the conch meat, ensuring it's of uniform size.
Mix Dry Ingredients:
In a bowl, combine the all-purpose flour, cornmeal, baking powder, salt, and pepper.
Add Vegetables and Conch:
Add the finely chopped onion, bell pepper, garlic, scallions, and conch meat to the dry ingredients.
Whisk Wet Ingredients:
In a separate bowl, whisk together the milk, eggs, and hot sauce.
Combine and Fry:
Pour the wet mixture into the dry mixture and stir until well combined. The batter should be thick but spoonable. Heat vegetable oil in a deep skillet. Drop spoonfuls of the batter into the hot oil and fry until golden brown, about 3-4 minutes per side.
Serving:
Conch Fritters are best enjoyed hot and crispy, served with your favorite dipping sauce. They make for a delightful appetizer or snack.
In conclusion, Conch Fritters are a true taste of the sea. By making this dish, you can relish the crispy, flavorful goodness of conch, a delicacy from the deep waters, in the form of these delectable fritters.