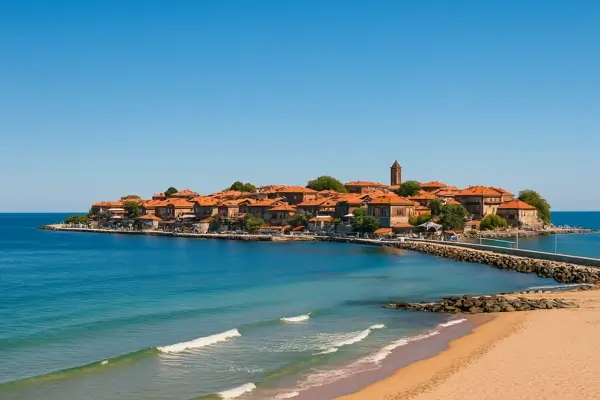 Photo from unsplash.com
Explore Bulgaria: Unveiling the Charms of the Balkans
Embark on an unforgettable journey to Bulgaria, a hidden gem in the heart of the Balkans. This travel guide is your key to unlocking the secrets of Bulgaria's rich history, diverse landscapes, and vibrant cultural traditions.
Main Tourist Attractions:
Discover the timeless beauty of Rila Monastery, explore the ancient ruins of Plovdiv's Old Town, and marvel at the stunning architecture of Sofia's Alexander Nevsky Cathedral. Dive into the mystical atmosphere of the Belogradchik Rocks and traverse the historic Tsarevets Fortress in Veliko Tarnovo.
Natural Parks and Reserves:
Immerse yourself in Bulgaria's natural wonders, from the lush landscapes of Pirin National Park to the pristine waters of the Seven Rila Lakes. Hike through the mystical forests of Strandzha Nature Park and encounter diverse wildlife in the Central Balkan National Park.
Cultural and Historical Sites:
Step back in time at the Thracian Tomb of Kazanlak, a UNESCO World Heritage Site, and explore the ancient city of Nessebar with its charming cobblestone streets. Uncover the secrets of the Madara Rider, a rock relief depicting a majestic knight, and witness the preserved frescoes of Boyana Church.
Seasonality and Best Months to Visit:
Plan your visit during the mild spring or autumn months for pleasant weather and fewer crowds. Winter welcomes snow enthusiasts, while summer invites beachgoers to the Black Sea coast.
Preparing for Diverse Weather Conditions:
Pack layers for varying temperatures and include comfortable walking shoes for exploring historical sites. Sunscreen is essential, especially during the warmer months, and a light jacket is recommended for cooler evenings.
Traditions and Customs:
Engage with locals through traditional Bulgarian greetings and immerse yourself in the lively folklore festivals. Respect cultural norms, such as removing your shoes when entering someone's home, and savor the warmth of Bulgarian hospitality.
Local Cuisine and Restaurants:
Indulge in the diverse flavors of Bulgarian cuisine, from the renowned Banitsa pastry to the hearty Shopska salad. Explore local markets for fresh produce and enjoy a culinary journey in traditional mehanas (taverns).
Festivals and Events:
Time your visit to coincide with the lively Rose Festival in Kazanlak or experience the vibrant Kukeri Festival, where locals don elaborate costumes to ward off evil spirits. Enjoy the Sofia International Film Festival for a taste of the country's burgeoning arts scene.
Adventure Opportunities:
Embark on scenic hiking trails in Pirin or Rila Mountains, bike along the picturesque Rila Monastery Nature Park, and engage in water sports along the Black Sea coast.
Excursions and Tours:
Join guided tours to the mystical Belogradchik Rocks, explore the wine regions of Melnik, or take a boat trip along the Danube River. Discover Bulgaria's hidden gems through curated excursions.
Visa Requirements and Documents:
Check visa requirements based on your nationality and ensure your passport has sufficient validity. Bulgaria is a member of the European Union, allowing visa-free travel for EU citizens.
Safety and Traveler's Health:
Stay informed about local safety conditions and carry essential medications. Hydrate well, especially during outdoor activities, and be mindful of your belongings in crowded areas.
Travel Planning Tips:
Plan a balanced itinerary, combining cultural exploration, outdoor adventures, and relaxation. Embrace the slow-paced lifestyle in rural areas and engage with locals for an authentic experience.
Hotels and Accommodations:
Choose accommodations in Sofia for urban convenience or opt for charming guesthouses in historic towns. Coastal resorts along the Black Sea offer a perfect blend of relaxation and luxury.
Transportation and Getting Around:
Navigate Bulgaria through a well-connected network of buses and trains. Renting a car provides flexibility for exploring remote areas, and domestic flights are available for longer distances.
Best Residential Areas:
Stay in Sofia's city center for easy access to historical sites and vibrant nightlife. Explore the artistic vibe of Plovdiv's Kapana district or relax in the serene surroundings of Bansko in the Pirin Mountains.
Local Residents and Customs:
Learn basic Bulgarian phrases to connect with locals and participate in traditional dances. Bulgarians are known for their warm hospitality, so don't hesitate to engage in conversations and share experiences.
Bulgaria, with its rich tapestry of history, nature, and culture, invites you on a journey of exploration and enchantment. Use this guide to craft your Bulgarian adventure and create lasting memories.