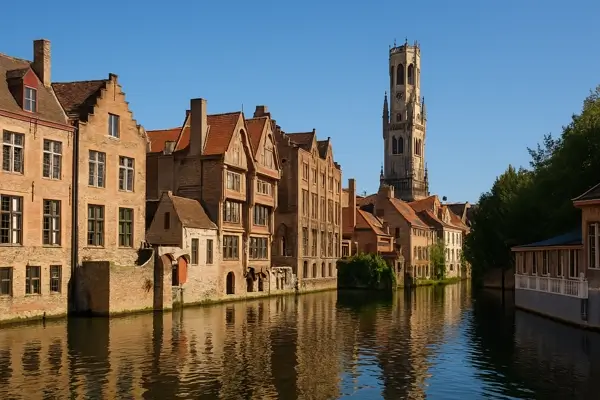 Photo from unsplash.com
Belgium Unveiled: A Journey through Time, Tradition, and Tranquility
Embark on a captivating journey to Belgium, a European gem where medieval charm, culinary delights, and scenic landscapes await. This comprehensive guide navigates you through the heart of Belgium, offering insights into its rich history, vibrant culture, and the best ways to create lasting memories.
Main Tourist Attractions:
Discover the grandeur of Grand Place in Brussels, the medieval architecture of Bruges' Markt Square, and the iconic Atomium in the heart of the capital. Explore the historic Belfry of Ghent and immerse yourself in the artistry of the Royal Museums of Fine Arts in Brussels.
Natural Parks and Reserves:
Escape to the tranquility of Hoge Kempen National Park, offering picturesque hiking and biking trails. Embrace nature's beauty in Ardennes, renowned for dense forests, meandering rivers, and the stunning caves of Han-sur-Lesse.
Cultural and Historical Sites:
Step back in time at the medieval Gravensteen Castle in Ghent and the historic Cathedral of Our Lady in Antwerp. Delve into the artistic legacy of Rubenshuis and the medieval fortress of La Roche-en-Ardenne.
Seasonality and Best Months to Visit:
Belgium's charm shines year-round, but the spring months of April to June and the mild autumn from September to October are ideal for comfortable weather and blooming landscapes. Festive holiday markets in winter add a magical touch to your visit.
Preparing for Varied Weather Conditions:
Pack layers and a waterproof jacket for unpredictable weather. Comfortable walking shoes are essential for exploring cobblestone streets, and a travel umbrella can be handy for occasional rain showers.
Traditions and Customs:
Engage with locals by offering a friendly "Dag" (hello) and respecting the cultural norm of three kisses when greeting friends. Embrace the ritual of enjoying Belgian chocolates and savoring a variety of local beers.
Local Cuisine and Restaurants:
Indulge in Belgian culinary delights, from waffles and fries to hearty stews like carbonnade flamande. Experience the vibrant food scene in Brussels' Marolles district or savor seafood in the quaint restaurants of Ostend.
Festivals and Events:
Immerse yourself in the lively atmosphere of the Ghent Festival in July, celebrating arts, music, and street performances. Explore the Flower Carpet Festival in Brussels every two years, a mesmerizing display of floral artistry.
Adventure Opportunities:
Cycle along the picturesque Flemish Ardennes or kayak through the tranquil waters of Lesse River. Opt for a hot air balloon ride for a breathtaking aerial view of Belgium's landscapes.
Excursions and Tours:
Embark on a brewery tour in Bruges to taste a variety of Belgian beers or take a scenic boat tour along the canals of Ghent. Uncover the mysteries of the Waterloo battlefield with a guided historical tour.
Visa Requirements and Documents:
Check visa requirements based on your nationality and ensure your passport has at least six months of validity. Obtain the necessary visa for tourism purposes and carry printed copies of your travel itinerary and hotel reservations.
Safety and Traveler's Health:
Belgium is known for its safety, but stay vigilant against pickpocketing in crowded areas. Ensure you have travel insurance, and carry necessary medications. Familiarize yourself with emergency contact information.
Travel Planning Tips:
Plan your itinerary to include a mix of historical sites, cultural experiences, and leisurely strolls. Utilize Belgium's efficient public transportation system for easy city-hopping.
Hotels and Accommodations:
Choose accommodations in the heart of Brussels for a central experience or opt for a charming bed and breakfast in Bruges for a cozy, historic stay. Book accommodations in advance, especially during peak travel seasons.
Transportation and Getting Around:
Efficient trains connect major cities, and local buses offer convenient intra-city travel. Rent a bicycle for an authentic Belgian experience or explore on foot to fully appreciate the cityscapes.
Best Residential Areas:
Consider accommodations in Antwerp's historic district for a blend of culture and modern amenities. Explore the trendy neighborhoods of Ixelles in Brussels for a vibrant, cosmopolitan atmosphere.
Local Residents and Customs:
Engage with locals by appreciating their multilingualism and showing interest in their cultural heritage. Respect local customs, such as removing your shoes when entering someone's home.
In conclusion, Belgium unveils a tapestry of experiences, blending historic grandeur, culinary indulgence, and natural beauty. Whether you're exploring medieval cities or savoring Belgian chocolates, your journey through Belgium promises a tapestry of unforgettable moments.