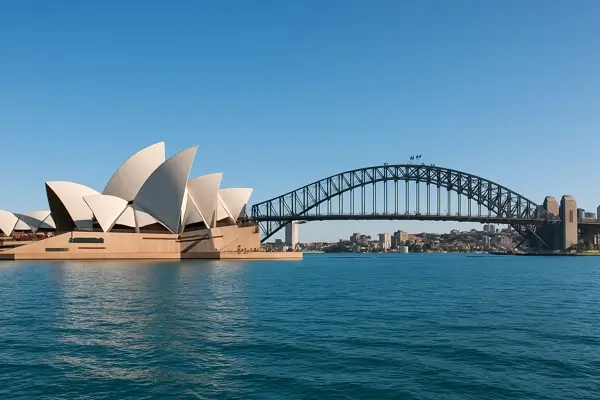 Photo from unsplash.com
Discovering Down Under: An In-Depth Guide to Traveling in Australia
Embark on a captivating journey to the land Down Under, where the sun-kissed landscapes, vibrant cities, and unique wildlife create an unparalleled travel experience. From the iconic Sydney Opera House to the vast expanse of the Outback, Australia invites you to explore its diverse wonders.
Main Tourist Attractions:
Marvel at the architectural marvels of Sydney, including the Sydney Harbour Bridge and the world-famous Opera House. Immerse yourself in the cultural heart of Melbourne's Federation Square and wander through the ancient landscapes of Uluru in the Red Centre. Explore the Great Barrier Reef, a natural wonder teeming with marine life.
Natural Parks and Reserves:
Embark on a nature lover's paradise in the Daintree Rainforest, home to unique flora and fauna. Discover the breathtaking beauty of the Blue Mountains National Park, known for its dramatic landscapes and iconic Three Sisters rock formation. Explore the pristine beaches and lush rainforests of Fraser Island, the world's largest sand island.
Cultural and Historical Sites:
Step back in time at the convict-built Port Arthur Historic Site in Tasmania, a UNESCO World Heritage site. Experience the rich Aboriginal culture at Kakadu National Park, where ancient rock art tells the stories of Australia's indigenous people. Visit the historic town of Fremantle in Western Australia, known for its well-preserved 19th-century architecture.
Seasonality and Best Months to Visit:
Plan your visit during the Australian spring (September to November) for blooming landscapes and mild temperatures. Summer (December to February) offers vibrant festivals and beach activities, while autumn (March to May) provides pleasant weather for outdoor exploration. Winter (June to August) is ideal for skiing in the Snowy Mountains.
Preparing for Varied Weather Conditions:
Pack sunscreen, a hat, and light clothing for the warm Australian sun. In cooler regions or during winter, bring layers for temperature fluctuations. Comfortable walking shoes are essential for exploring diverse landscapes.
Traditions and Customs:
Experience the laid-back Australian lifestyle by greeting locals with a casual "G'day" and embracing the spirit of mateship. Participate in a traditional Aussie barbecue and learn the art of "footy," whether it's Australian Rules or Rugby League.
Local Cuisine and Restaurants:
Savor the flavors of Australian cuisine, from fresh seafood in Sydney to hearty meat pies and Vegemite on toast. Explore local markets and dine in trendy eateries for a taste of culinary innovation in cities like Melbourne.
Festivals and Events:
Celebrate the vibrant culture of Australia at the Sydney Festival, a month-long extravaganza of music, art, and performances. Join the Melbourne Food and Wine Festival for a gastronomic journey or witness the mesmerizing Vivid Sydney light festival.
Adventure Opportunities:
Embark on hiking trails in the Grampians National Park or the lush rainforests of Lamington National Park. Cycle along the scenic Great Ocean Road or dive into the underwater world of the Great Barrier Reef. Experience the thrill of surfing on Australia's world-renowned beaches.
Excursions and Tours:
Take a hot air balloon ride over the Yarra Valley or embark on a camel safari in the Red Centre. Cruise along the Whitsunday Islands or explore the historic sites of the Gold Rush era in Ballarat.
Visa Requirements and Documents:
Check visa requirements based on your nationality and ensure your passport is valid for at least six months beyond your planned departure date. Apply for the appropriate visa category, whether it's for tourism, work, or a working holiday.
Safety and Traveler's Health:
Australia is known for its safety, but follow standard travel precautions and be aware of wildlife, especially in natural areas. Ensure you have travel insurance, and be mindful of sun safety in the strong Australian sun.
Travel Planning Tips:
Research the diverse regions of Australia to tailor your itinerary based on your interests. Plan transportation between cities, whether by domestic flights or scenic road trips. Familiarize yourself with the distances between destinations.
Hotels and Accommodations:
Choose from a range of accommodations, from luxury hotels overlooking Sydney Harbour to eco-friendly lodges in the wilderness. Book in advance, especially during peak travel seasons.
Transportation and Getting Around:
Navigate Australia with a mix of domestic flights, trains, and rental cars. Consider a campervan for a flexible and adventurous road trip experience. Utilize public transportation in major cities for convenience.
Best Residential Areas:
Opt for accommodations in Sydney's Circular Quay for stunning harbor views or Melbourne's Southbank for a trendy urban experience. Choose beachfront options in Bondi or Byron Bay for a coastal retreat.
Local Residents and Customs:
Connect with Aussies by embracing the friendly and informal atmosphere. Respect local customs, such as leaving tips in restaurants and understanding the significance of the Aboriginal culture. Be mindful of the diverse multicultural population.
In conclusion, Australia beckons with a tapestry of landscapes, cultures, and adventures waiting to be explored. Whether you're captivated by city lights, natural wonders, or cultural experiences, the Land Down Under promises an unforgettable journey.